So I was reading through some threads (possibly stickies) and saw a few people complaining that once you make one barrel spacer its almost impossible to tell if any others are snug and it is a fruitless endevor. The issue was never really addressed so I figured I'd share how I've been doing them and how to ensure I'm getting tight fits for all of my spacers.
Materials
-Masking Tape
-string/small zip ties
Optional
-Hole Saw like
this
(note: sizes will vary depending on barrel size/profile)
So lets dive in...
This barrel I'm setting up to be used with an LRB so my barrel spacers will leave the forward 1/3 of the barrel blank. I also decided to snap pics once I was almost done so you only get one example...but that should be enough.
I start with the muzzle most spacer first (really can do hop up end first and construct towards the muzzle too), since this is for an LRB I opted to use the hole saw for a more solid spacer. For this, you take a small slab of wood (mine is approximately 3/4" thick), lock it into a vice on the drill press and drill down until the drill bit portion goes all the way through and the teeth of the hole saw part bit into the wood a bit. At this point keep the wood locked in place and change the hole saw bit with a regular drill bit of proper size to fit your barrel as snug as possible. Since your setup is the same the drill bit should follow the same path as your hole saw bit ensuring the hole remains straight and center. Now that the hole is opened up to barrel size change your bit back to the hole saw setup and continue to drill through until you have your piece drilled out. Now pull it out of the hole saw and clean up the edges...congrats the hardest part of this is done. (Note: if you opt to do this for any other spacers on your barrel, follow the same procedure with varying size if you have a tapered barrel). Now provided you made more than one wood spacer slide them all on the barrel in order (again for tapered only really). You should have chosen a size hole saw that cuts a wood plug a bit smaller than the inside of your barrel profile and where you intend it to sit.
You will now slide all of your wood spacers as far back towards the hop up unit except the one closest to the muzzle. Wrap 2-3 wraps of masking tape (or more if you are doing the LRB) around the muzzle barrel spacer (lets call this spacer 1). Now push this spacer along the barrel about 1" off of the muzzle and now take your string or zip tie and tie/sinch it around the barrel firmly but loose enough it can slide along the barrel with minimal drag.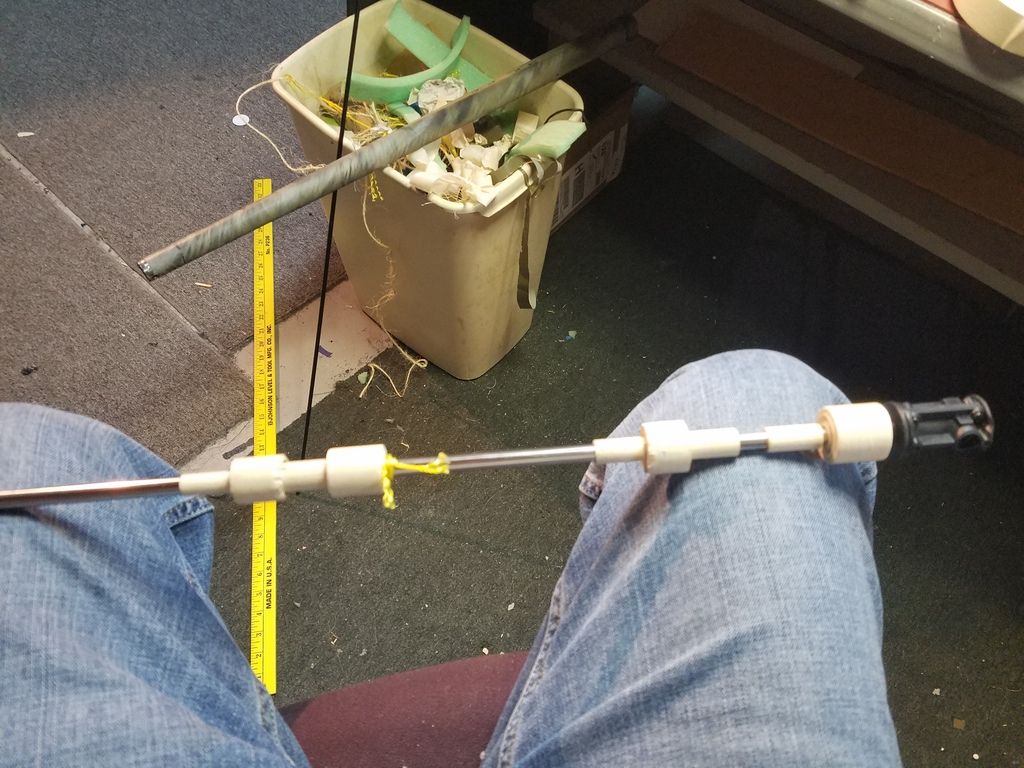 Now insert the barrel and push it in until the hop up unit holes line up with the holes in the barrel where it is supposed to sit.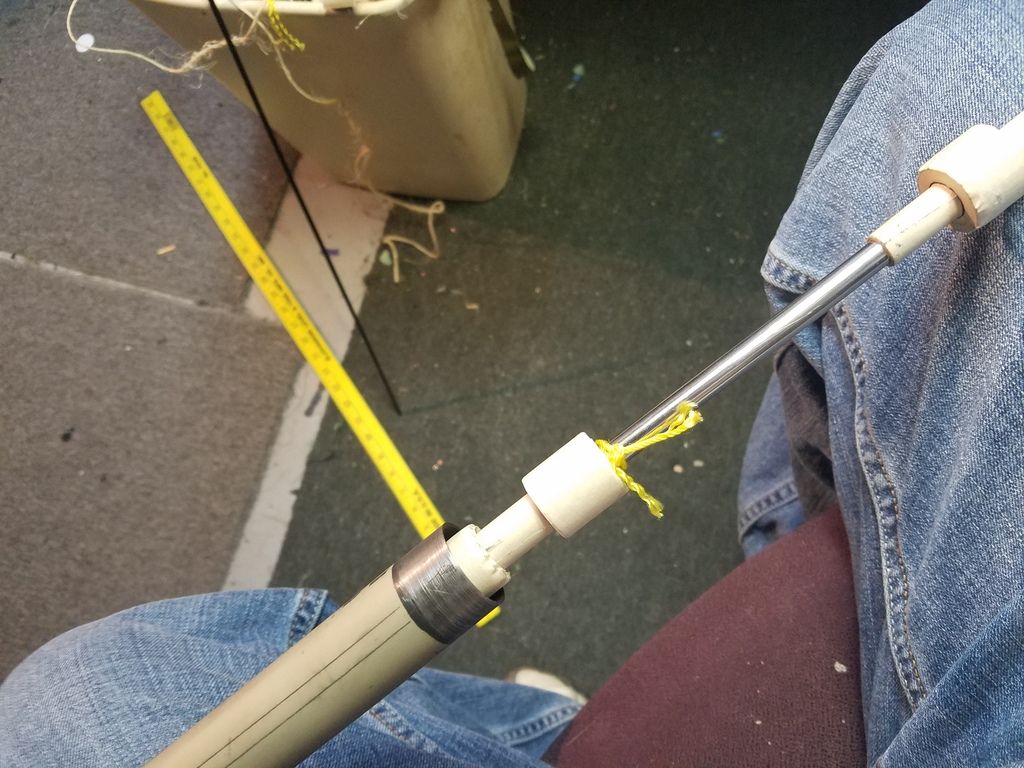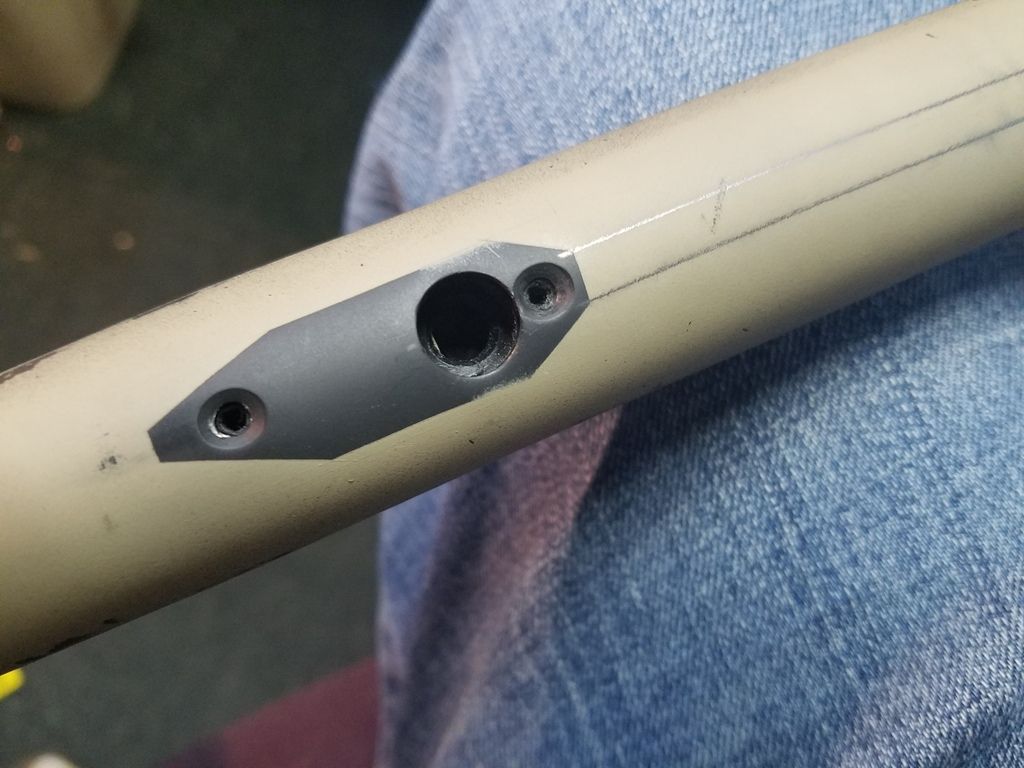 Now slide your barrel out and see where the string/zip tie lands. This is where your outer barrel friction fits with the spacer, add or remove tape to adjust where it sits. (Note: in the picture my spacer is against the string, they DO NOT always come out this way, trust where the string/zip tie lands and not where the spacer is when you pull it out) This is where you want to put your first masking tape stop. Simply move spacer 1 against the zip tie, move the zip tie back and out of the way, move the spacer up (towards the muzzle) a nut hair (technical unit of measure
) and wrap masking tape on the barrel right against the spacer. This ensures the tape around the spacer is compressed a little and fits snuggly in the barrel. Congrats! you are done with spacer 1. For spacers 2 through X you will follow the same procedure. This will ensure every spacer is snug. (Red is wood spacers, green is front spacer stops, blue is rear spacer stops, non colored is masking tape spacers)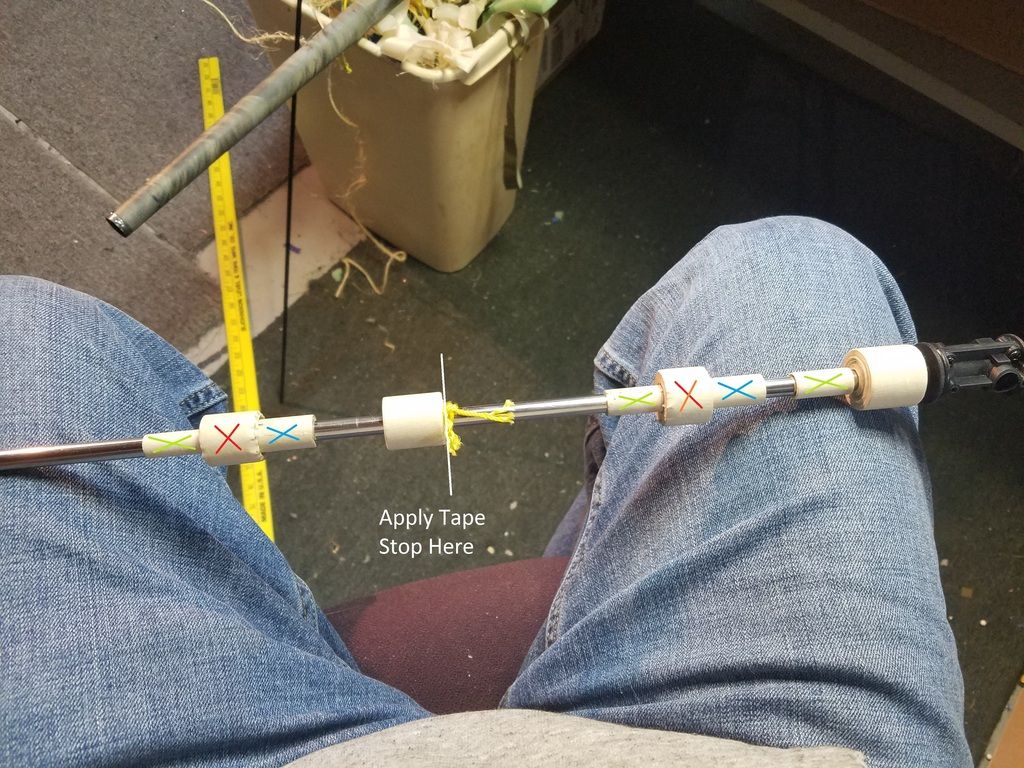 If you opt to do all (or any) spacers purely out of masking tape, my method for construction is pretty much the same as 1Tonne. With the sticky side of the masking tape facing up (away from the barrel) do a few TIGHT wraps with sticky side up. This allows your spacer to slide along the barrel AND allows you to align your hop up to the holes without putting torque on the barrel when you try and turn it into position. (I've come to realize this can cause you to twist your hop-up window/rubber and is the cause of some of the left/right curves of BBs). Now that the base of the spacer is created, you want to now wrap (normally with sticky side down) until you expect it to fit in the area of barrel you want it to go (add a few extra wraps from this point to make sure). You will now secure a zip tie behind spacer 2 and follow the same procedure as with spacer 1. Remove or add tape until it fits where you need/want it to sit.
Congrats
....all of your spacers now fit like a glove. At this point I take some foam from a craft store and cut it into strips and wrap it around the barrel to fill in the voids between the spacers. I wrap it semi loosely until the diameter looks slightly bigger than the spacers it sits between. I take some heavy duty thread and lightly wrap it around the foam to keep the diameter. No idea how much this helps with vibrations/noise if at all...I know it doesn't cause anything negative and it makes me feel better so I do it.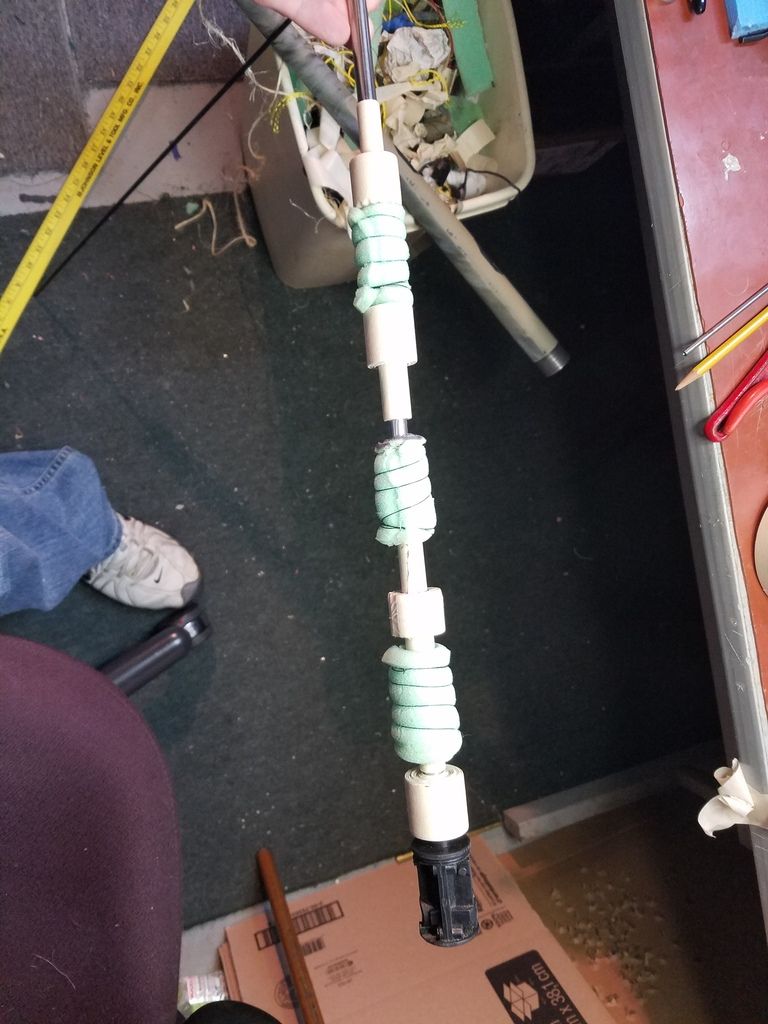 Hopefully this helps some of you, nothing earth shattering here but some little tips to make your life easier and your work more precise.