I'm sure many of you are as intrigued as I was when I first head of these buckings, so hopefully this will provide some insight into the latest attempt at a drop in R-hop style rubber. I will cover the installation and performance of the Maple Leaf bucking in a BAR-10.
I ordered two rubbers from Evike, one to try in my rifle and the other to try in my glock. Both are 70 degree hardness.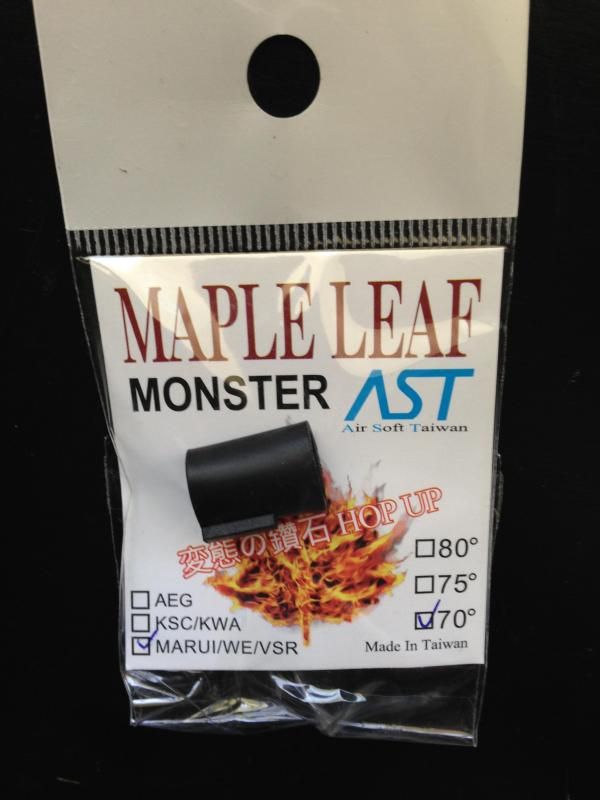 I immediately noticed how firm the bucking is. It feels similar to the guarder hard buckings for VSR10. The mound is elongated and concaved, with a slight "V" shaped split at the very end.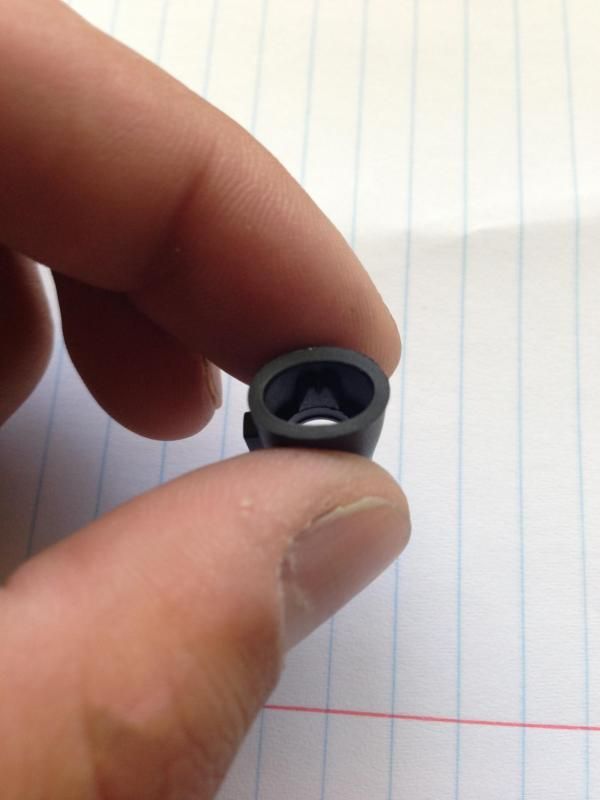 I first test fitted it on my stock brass JG barrel. The cut in the barrel was not long enough to accomodate the entire mound, and left a small bulge in the bucking. I then test fitted the bucking/barrel into a spare hop up chamber and it didn't seem to cause an issue, but I did not test fire it so I cannot say if it will jam or cause an akward spin.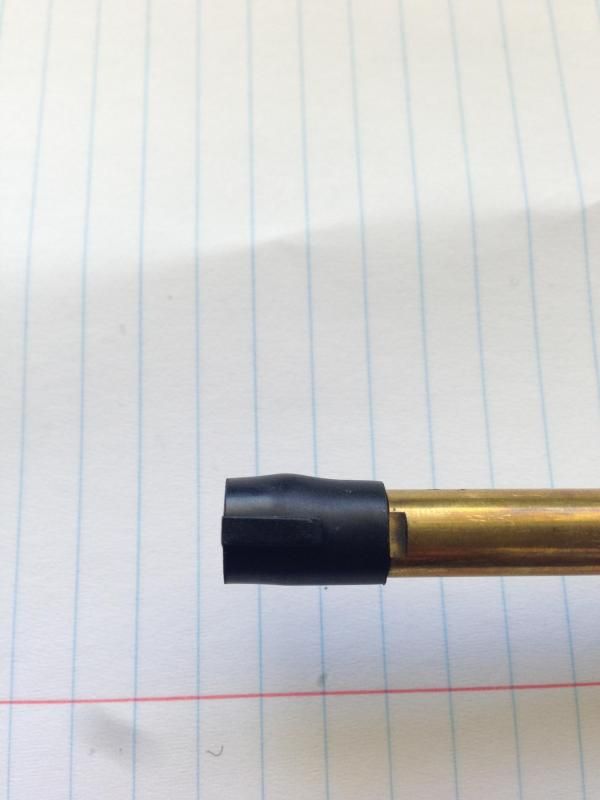 The bucking seated perfectly on my Laylax 6.03 x 430mm barrel, as the hop up window was cut all the way to the end of the barrel. This was also the case on my glock barrel. The bucking fit much better on this type of barrel cut and there is no bulge in the bucking. Also, when pressure is applied from the hop up arm, it appears that more of the mound is entering the barrel, resulting in a more R-hop like contact suface.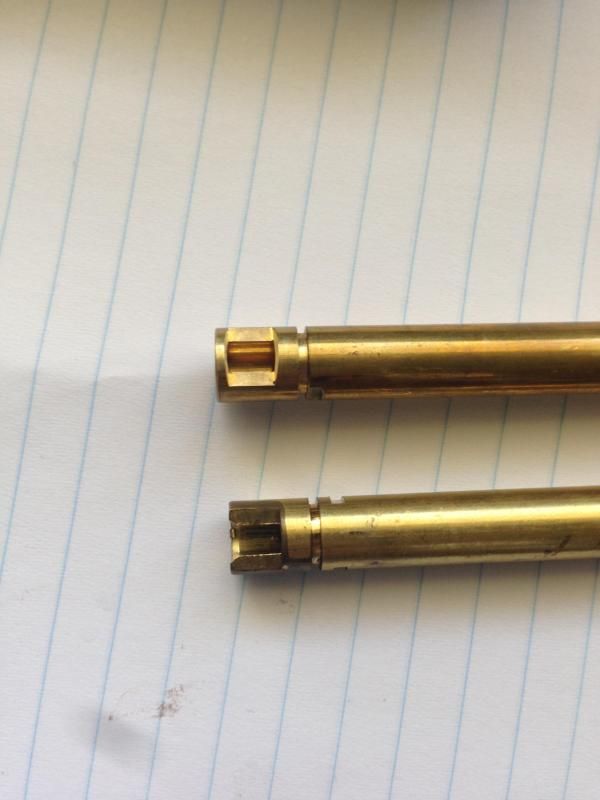 When viewing the hop up chamber through the barrel, it appears as though the R-hop effect is achieved. The contact surface is concaved and perfectly centered. Keep in mind I am using a custom nub made out of a 16awg wire casing. I am not sure if it makes a huge difference on the shape of the mound, as the view down the barrel of my glock is very similar.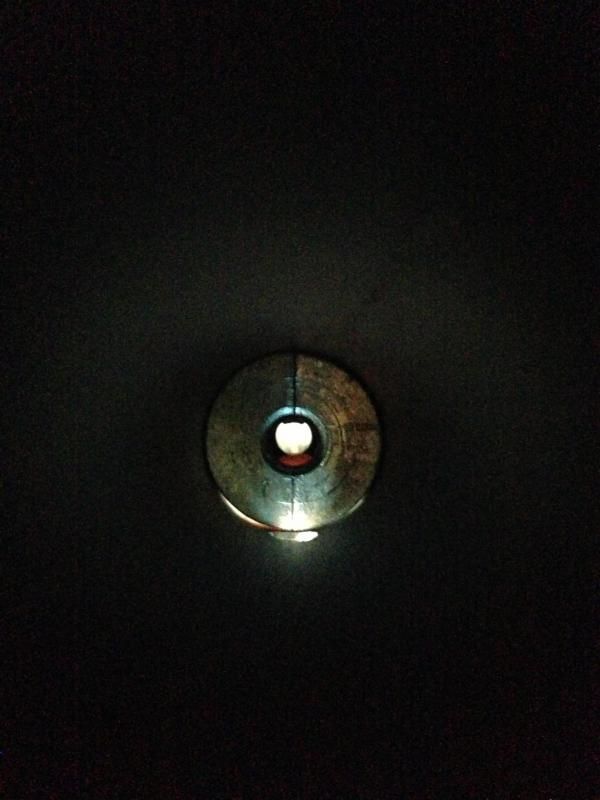 Firing Test Results:
*All results are subjective as I do not have an adequate target or range to shoot at. My data was collected firing off hand from my porch at a tree approximately 210 feet away.
These things remained constant for both tests:
Laylax 6.03mm x 430mm barrel.
Laylax Zero Trigger
Laylax Orange Piston
Laylax Spring Guide
Laylax Damper Head
Stock JG Hop-up Chamber
Wire Casing Nub.
.30g Bioval bbs.
3-5 mph variable winds.
Full TM magazine.
Hop-up adjusted to give the bb a very slight arc and scope zeroed to the top of the arc.
Pre Maple Leaf:
Stock JG bucking.
395 fps measured with .20g bbs.
321 fps measured with .30g Bioval bbs.
8 fps variation.
-Shots were fairly consistent and straight. BB starting to drop considerably after about 160ft. Required a 3 mil hold to hit the tree. Groupings were about body sized.
Post Maple Leaf:
Maple Leaf bucking.
430 fps measured with .20g bbs
366 fps measured with .30g Bioval bbs.
.3 fps variation.
-Shots were very consistent and dead straight. The bb held a much straighter vertical flight path and required only 1 mil hold to hit the tree. Groupings were still about body sized.
I would estimate that the Maple Leaf bucking increased my effective range by about 40ft, from 160ft to 200ft. It did not tighten my groupings, but again I am firing off hand in windy conditions, so this conclusion may be inaccurate. The only gripe I have with the Maple Leaf bucking is how incredibly sensitive it is to changes in pressure from the hop up arm. I would recommend a tightly shimmed chamber to minimize possible movement of the hop arm caused by bumping the rifle, or the TDC mod to allow much finer adjustment. I am also debating switching from my wire casing nub to an M style nub, to allow more flex and alleviate some of the sensitivity.
*Edit*
Sorry for the late update :/ After many hours of tweaking I have since gone back to my traditional bucking. I never could smooth out the inconsistency in hop to a point that I was confident with and so I gave up some of the added range for better consistency. I'd still recommend picking one of these up if you are looking for that long, flat trajectory in a one-piece bucking, or of you plan to use it for it's very tight air seal.