Quote:
Originally Posted by
Dimitri MdP
hmm for 600 FPS I'd have went the other way, and order a 75º, as the manufacturer recommends
Still
really
weird that you don't get the right results with the bucking and nub that are renowned precisely for consistency.
In your place, I'd try with the Autobot 70º and the black concave nub, that's the combination that better works for me every time. Before putting the assembly back into the unit, check for the hop patch to come down evenly.
Other than that, it might not be a hop problem at all, but either a faulty AA barrel or just a bad case of crappy bbs of the bloating kind.
Ironically enough, poor quality bbs work better with crappy OEM barrels because of clearance (relatively larger bore). A friend of mine got that symptom when he first upgraded his M40A5: he was getting awful accuracy out of a Maple Leaf barrel, while getting quite better with the OEM one (both with a 75º Autobot bucking).
Turned out to be his WE bbs. They seemed OK, but had very minor diameter inconsistencies due to bloating, which make them work better with the wider bored OEM barrel.
Found the real problem a couple of weeks later, when he reached for his bag of bbs and got this beast of of it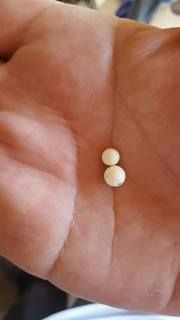 Seriously. That's not an 8mm bb, those are 2 "6mm" bbs out of the same bag. Of course at the beginning it was not that noticeable, but that made us realize he got bad bbs.
As soon as he switched to Geoff's, his shots got much better with both barrels, and the ML one was allowed to shine, outperforming the OEM in every single way.
I tried a few brands and a few different weights, some washed, some not.
The results were basically the same.
I've also tried both black and blue nubs. While it is a bit better with the black one (blue might be too soft) it's still miles away from good.
I've tried an Autobot 70 as well as two Decepticons 70.
None of them worked, though as stated above, none of the patches looked good nor went down the window evenly.
Should have a new Autobot 60 tomorrow as well as a Monster 70 next week, will report back.
If I'll get the same results I'll shave off the bridge from the stock barrel and try that. I'd rather play it safe and don't do it until new bucking arrives as this setup works really decent at this point.
While it doesn't provide as much range nor airseal it's very consistent.
I'll play it safe and hold up on sanding until I'll be sure it's the barrel.
Quote:
Originally Posted by
RKS
I have bought THREE AA chambers because of the love for them on this forum. I wrecked the first two on installation by tearing the head off the M3 screw that holds the chamber block to the chamber. (Yeah, I know it's my fault and I shouldn't have overtorqued but it didn't take much torque to pop the heads off the screws.)

I managed to fix the first one but I was getting disappointing range and accuracy, so I went back to the stock chamber. Then I got the second one and just decided to get a third when I wrecked the second one. Turns out I still had enormous trouble tuning the hopup -- it seems like the sweet spot window is about 1/4 of a turn on a 10-or-so-turn screw. And I was getting a lot of flyers and double feeds or failures to feed, unless I held the mag in.

I was using ML buckings with the AA chambers the whole time -- first Decepticon, then Monster.

Now I'm back to the stock TM chamber using an Autobots 60 bucking. I have no mods to the hopup arm but I can overhop 0.45s. I get about 200 real feet of effective range... I think my gun should be able to get more, but that's a different matter.

Anyway I wanted to share my story of not being so impressed with AA hopups... I should note I use a Mancraft SDiK and I think it's possible the Mancraft cylinder head doesn't work well with the AA hopup. (OP, do you use a stock cylinder head?)

Overall my conclusions has been that the AA hopup may be an improvement over JG or Well hopups, but it may not offer a noticeable improvement over a TM hopup.

my setup:
TM VSR-10 G-SPEC
compression: Mancraft SDiK, 2.28 joules
trigger: PDI v-trigger
barrel group: TM stock hopup, PDI 6.01x303
I don't think it's the chamber, though I've had the same exact issue - an M3 screw that holds the block snapped and I failed to get it out, so I had to get a new chamber.
The results were same on both though.
Since I'm using a BAR-10 the chamber is an improvement, provides a much better airseal and consistent FPS, however I seem to be unbelieveably unlucky with ML buckings.