Discussion Starter
·
#1
·
Heya snipers, id just like to share a few pics taken just recently. A 36hr Milsim Game here OPERATION: Anaconda.
As the Scenario goesThere were 3 Factions. RED, BLUE and SPEC OP Contractors. RED And BLUE were against eachother, after a certain OIL TYCOON, who hired SPEC OP Contractors to protect him. I was a recon sniper in the 15 man CONTRACTOR faction.
Our faction was divided into 3 squads, 3- 5 per squad. Command and Comms Squad, Sniper/Recon and Striker/Assult. Here are some Pics.
incomplete squad pic before we started Humping to our staging area. Im d guy with the Camoed VSR10 up front.
My Kit. A VSR10 Rifle, 90 rounds of .36bb, a 3 day pack with 2 MRES, an Extra Tigerstripe BDU and an extra change of clothes.
Others with me were using AEGS and GBB M4s
We had to hike for 45 mins, in full freaking gear to get to our staging area, masks down by this time, we can get ambushed anytime.... gave me a new respect for soldiers all over the world.
TIME: 1000Hrs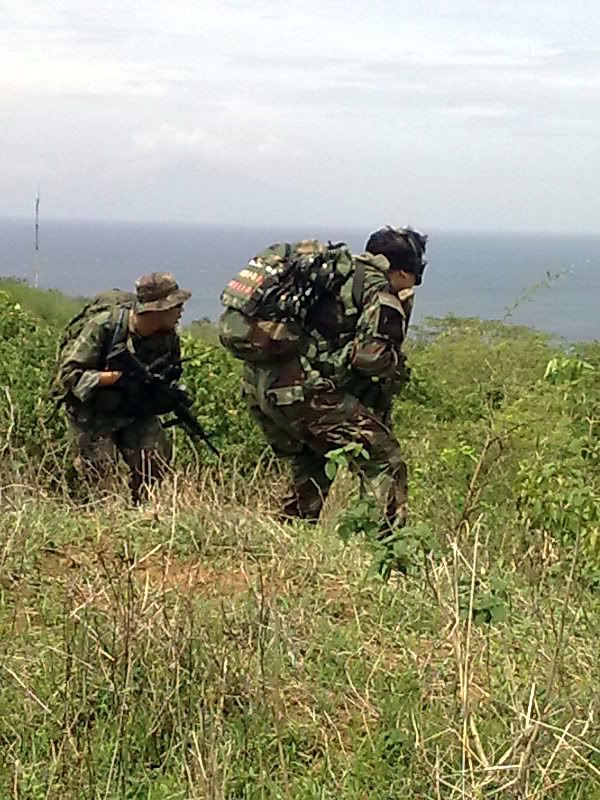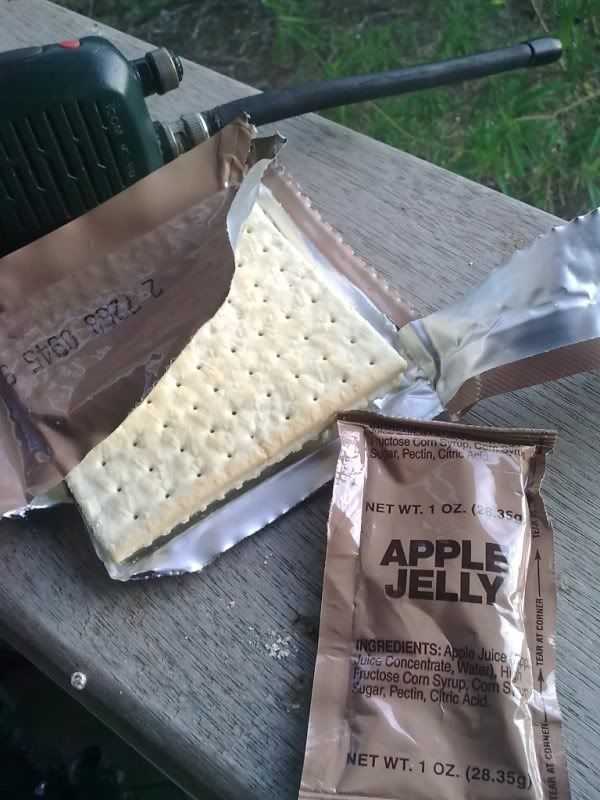 Yeah... Crackers and Apple Jelly... i was still hungry after.
TIME: 1300 Hours
Upon reaching Our FOB, A 3 man recon sniper team were given coordinates to ambush a forward observation team from RED Faction.
Another team, was to patrol the area. Again... we went further still, i was part ot the Recon team.
Command Squad was to protect the Oil Tycoon. And Through communications, maintain Cohesion in the team when accomplishing objectives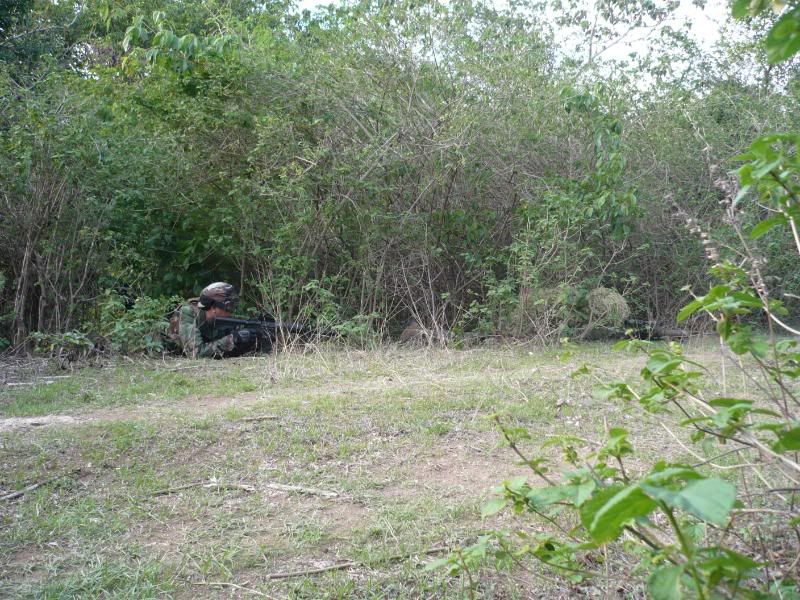 This is me in Hight Ground, waiting.. waiting and waiting... it was FREEKING HOT. My objectives, shoot the lead scout of the roving patrol, and if possible, take out any Medics and Radio Men. I was able to accomplish these opjectives, but i really had to wait for the tangoes
TIME:1430
Got back to FOB by 1900, was so tired, so i took these few shots that night... then made do with what we had... a cold open area Floor for a bed. I didnt do any mission that night since i only had a day optic on my rifle. Since our team did majority of the day time patrol, we stayed in that night, others in the squad with NVGS went out that night.
Woke up at 600hrs and by 900hrs, we boarded a 6x6. We were to wait for a local fisherman (apparently part of the game) to bring us to a beachead, 15mins by boat. there we would make a sea insertion. and in the area our last stand, attempt to bottleneck our Principals persuers.
2 Boats were needed to bring all of us
During the Beach landing.. i took most of the pics from afar, as i relayed key observation notes via radio to the landing team... honestly,no targets, no tangoes in sight i felt so useless.
TIME:1100hrs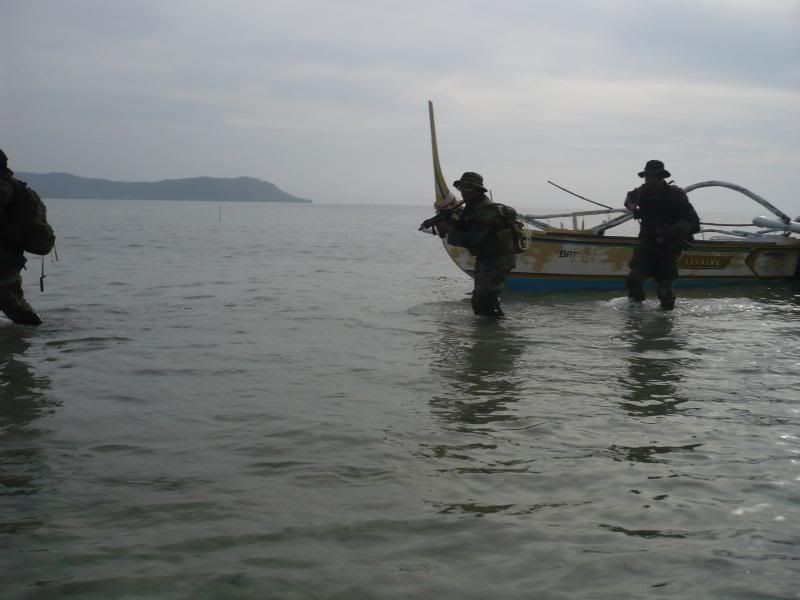 I had another guy take my picture, as this was my last self Portrait during the whole operation.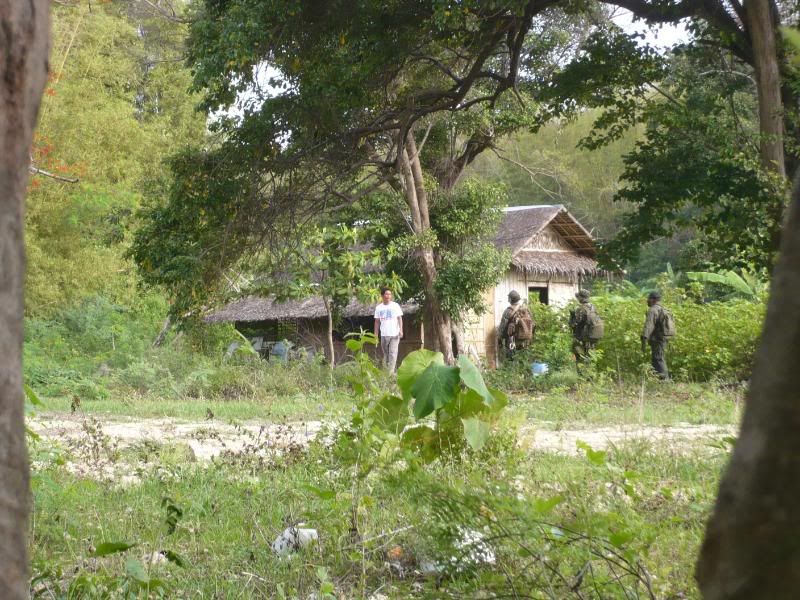 Within the next 2 hours, we were to dig in this 3 hectare piece of land..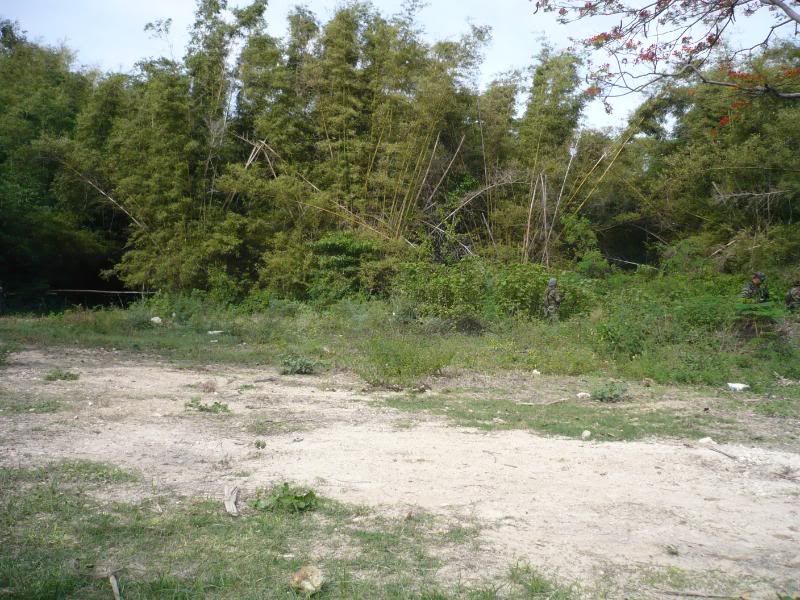 All civilians were requested to vacate temorarily until the operation was over.
I wasnt able to take anymore pics due to the fact that our faction was so small, 15 vs 60 (30 each from red and blue). We were very very busy... underfire... We took casualties, 7of us got hit within 2 hours, and our positions were over run. We hid in the jungle. but our objective, to protect the tycoon(who was also shooting with us) was accomplished.
1400hours, we needed a freeking bath...