Discussion Starter
·
#1
·
As been discussed in other threads, I've decided to make a hop up nub that uses shredder (SCS) ideas and H-nub ideas an make them in a new way, that hasn't really been seen before. So, keep reading for my preliminary thoughts and stuff!
----------------------------------------
So, here is the reasoning behind this nub. You get 2 "spin inducers" like an H nub, but wider for better stability. You then have the traction and stability of the SCS.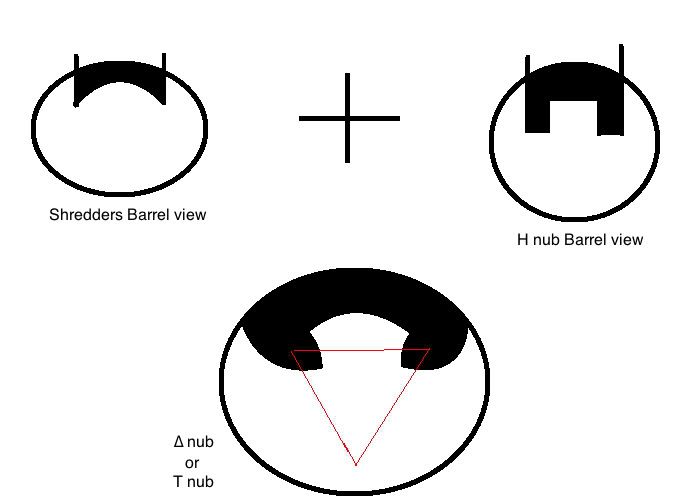 Those bumps sticking out act to give stability, as stated and shown by the triangle. They also give a lot of hop, like the G hop, but are more stable, from the differences I've seen from the G-hop at high(er) speeds. (Problems were over hob, and the nub getting sucked down the barrel at auto, because it sticks out so much.
The SCS part then provides traction, and more stability than two abrupt nodules, a la H nub. The SCS spacer is meant to be the natural form of a stock TM nub when compressed by the bb. The SCS is hard material, giving more consistency (because the BB bends soft rubber in different ways every time). However, a problem with it is the fact that it overhops at range... I think there are two reasons for this. This first would be that you have to have it really depressed (less hopping on the slide bar/dial) to give a nice amount of spin. This is minimized by the two nubs on the side of my hop. Also, the material is CNC'ed aluminum, I believe, giving the nub zero flex at all. Making mine out of a dense rubber might help this, giving it a little flex, but not enough to really make it inconsistent.
------------------------------ (another post)
Ok, so here the updated draft is.
So, enough theorizing/hypothesizing, I need to test it. I guess I'll start molding it... I have a few ideas.
I think I'm going to use this epoxy stuff called "green stuff" favored by sculptors for it's slight bendability, and fine detail. The detail part won't help much, but is nice, because I am sculpting the prelim's.
For testing, I think I am going to use my AEG (AK74) for the standard fit in between the arms, and the ease of testing. I can fire out a few hundred shots in a short time, compared to a BASR.
Questions, Comments, Flames? I'll try an start the sculpting right now... I'll see how far I can get, but it takes around 1 hour to dry, so hopefully I'll finish it today and test it later when I'm sure it is as dry as possible.
Also, if anyone has a better way to make nubs that doesn't require much tools besides dremel (or x-acto knife) and epoxy, I'm listening!