Discussion Starter
·
#1
·
Recently I have started making a Ghillie Suit and I am really enjoying it. I will try to update this as much as possable inorder to get feed back and help others.
Most of the sewing is done by my wife because I suck at it and her background is design/fabric.
Reference Websites:
-
http://www.se-tac.com
-
http://www.ghilliesuits.com
-
http://www.tacticalconcealment.com
-
http://www.airsoftforum.com
Materials:
- MC BDU
- Burlap
- Rit Dye (Tan, Olive Green and some other color I can not think of)
- Sniper Mesh - 100% Polyester (Think of mosquito netting)
- Dental Floss No scent.
- Shoe Goo (
http://www.amazon.com/Eclectic-Products
... B000H6EDOG)
- 1000D Cordura Fabric (Coyote Brown), I am going to use this for padding. (legs, chest and arms)
Currently I have this on my team forum and here are my updates.
*** UPDATE ***
(8/1/2011)
I ended up de-threading the back of the BDU where the mosquito netting is going go. I used some Unstitching tool that my wife had and after 2hrs I had my fabric that I am going to trace for the mosquito netting. I also at this time took off all pockets.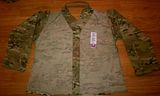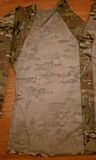 *** UPDATE ***
(8/2/2011)
Pinned the mosquito netting to the cut out BDU for making a template. Then cut out the templates.
Look at the first picture; now look at the piece on the right of the picture. That piece of fabric it is not cut on the right side. Keep in mind that I folded the mosquito netting in half to make one full back piece. If I was to unfold the right cut you would see one piece.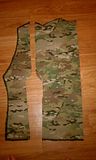 I also cut out the top of a boonie hat to make a vent.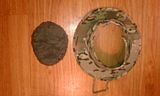 This is what it looks like up close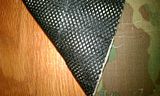 *** UPDATE ***
(8/3/2011)
I dyed some burlap (2 yards) last night and I am letting them hang outside in the sun today. I think the color was tan.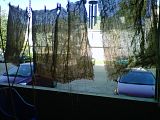 *** UPDATE ***
(8/4/2011)
Last night I started de-stringing some of the burlap for jute.
I am going to make the base of the Ghillie a mix between burlap and jute (tan) then I am going to throw in some colors.
Here is a picture to show what is going on. One bundle is less than 1 yard with jute length 8-12' long.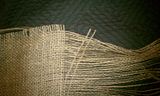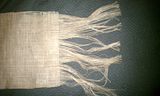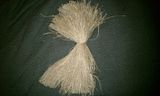 *** UPDATE ***
(8/8/2011)
Seeing how I was up last night late and early this morning 3am, my wife was able to help me with putting the mosquito netting on. She truly makes sewing clothes look like an art.
Base BDU is complete.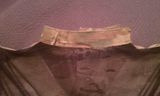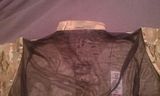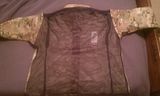 **** UPDATE ****
(9/12/2011)
Over the weekend I finished placing the Netting on the BDU top and Boonie Hat.
I also put shoe glue on each stich to keep it supported.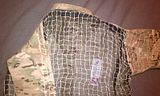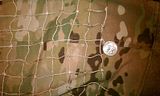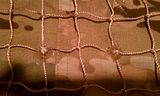 **** UPDATE ****
(9/14/2011)
Install the Jute and Burlap on the BDU Top
Base is Jute (Color: Un-Dyed Tan)
Add-On's (Color: Olive Green & Torque / Jute and Burlap Strips)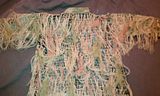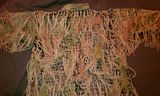 **** UPDATE ****
9/24/2011
I added more jute to fill in the back, then off to drag in the mud/clay. Unfortunately TX is in a drought and all I had to work with was... well you will see. I think I am going to add more this strips of brown burlap strips to break it up.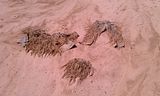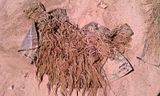 Comments, Questions, Concerns are welcomed.