Discussion Starter
·
#1
·
It took allot of research, but Ive finally got all the parts and together to build a M40 A5 with KAC SR25 suppressor.
Ive wanted to do this for awhile. The final straw was when Ares said they were going to make a M40. After looking at the pictures, I was disgusted at the lack of detail and the exorbitant cost. I thought, "Hell I can make a superior M40 that cant be copied" so I decided to build another one of my custom guns. The first obstacle was the stock. I wanted to get a mcmillian stock, on a budget(LOL) I almost got one , but it didnt work out. My contact in MCmillan couldnt hook me up with a stock, and CDI was too busy, I talked to a rep at ------- and bought one of their .308 short pull tactical rifle stocks. It comes with aluminum bedding and all the features of a McMillian, even has a v cut so the barrel will osculate correctly. I could have gotten a Mcmillan stock, but id have to wait 3 months for the price I wanted to pay. I figured Im shooting BBs, not match grade ammo, and for the price I paid, I couldn't be happier.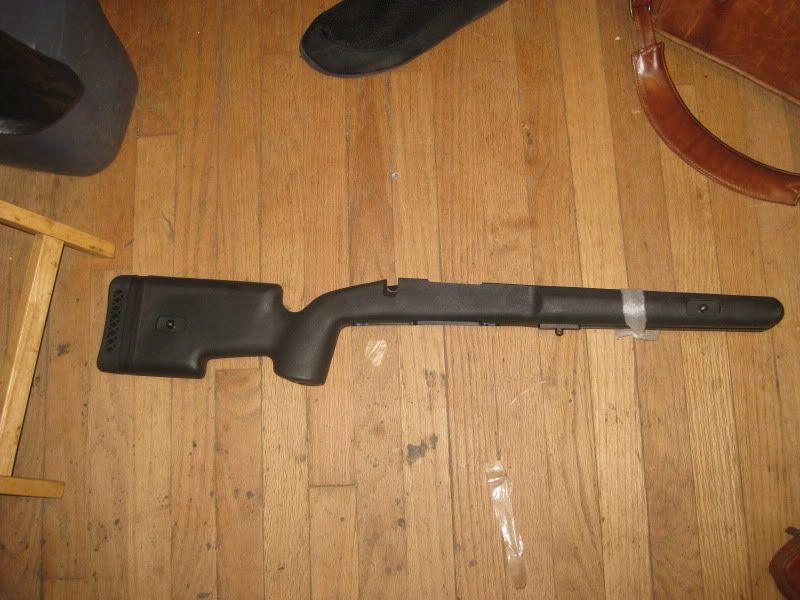 2) the gun:Base gun is a kjw M700
upgrades:
Cnc chamber
edgi 6.00 tightbore
2 Roy hop up
9 ball purple bucking
gg striker spring
gas route springs
gg rubbers
stainless nozzle(custom sized)
The barrel: Tanaka M700 heavy barrel
The dilemma: I need someone who is good with CNC work. I need to make a mag release and have the rifle action and barrel aligned correctly with the stock. If anyone can do this Id be happy to pay them.