Discussion Starter
·
#1
·
I have done a bit of research and made an article about the various family of camouflage patterns used in military worldwide from World War 2 till the present. Before you check out my link, try to take the little quiz below and find out how much you know about camouflage patterns.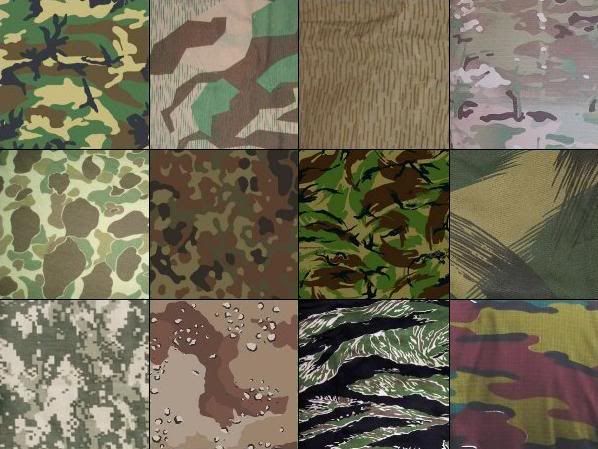 Match each camouflage name with the patterns shown above. Take note that these are just the "family" where the pattern belongs, not the specific name.
1. Brushstroke
2. Chocolate Chip
3. Digital
4. Disruptive Pattern Material
5. Duck Hunter
6. Flecktarn
7. MultiCam
8. Puzzle
9. Rain
10. Splinter
11. Tigerstripe
12. Woodland
For more information, check out my articles on the family of Camouflage patterns and its variants on this link -->
http://airsoftcomics.com/index.php?option=com_content&view=category&id=50&Itemid=60
. I did not however included the camouflage patterns that are too unique and doesn't have any other versions. I hope you like my share, Thanks!
If you have any comments or suggestions with regards to the article, just post it on this thread.