If you were linked to this guide because you were planning on buying a TM VSR 10 or other expensive rifle, scroll down to "Choosing the right brand/model"
Hey folks,
It has become clear to me lately that many people who are getting into sniping and sniper rifles don't really know what kind of gun they should buy, and when they do buy a gun, they often don't know what parts their gun takes and how to upgrade it. I have seen many people buy the wrong parts for the wrong gun or just start out with a bad platform altogether. That's a shame, because bad guns are hard or sometimes even impossible to upgrade and often perform poorly compared to "proper" sniper rifles. This gives people a bad impression about sniping and they give up quickly. Or they keep playing with an underperforming gun which is no fun either.
So I have decided to make a guide on what sniper rifle platforms there are and what guns are and aren't recommended, to rid myself from explaining the same thing again and again for once and for all :hehe:
The goal of this guide is explaining which guns are good and which ones aren't. The main factors here are upgradeability and durability. A gun must be well-built, you don't want it to break, and it needs to take the necessary upgrade parts, or you won't be able to take long distance shots.
So, brace yourself for another long post of Reliku-rambling on some subject. I'll try to keep it short, and I hope this helps some people :tup:
Types of guns
First of all, there are essentially four kinds of guns being used as airsoft sniper rifles:
-Spring powered bolt action
-Gas powered bolt action
-Electric powered semi-automatic
-Gas powered semi-automatic (HPA)
Each of these has their own advantages and disadvantages. I'll start off with bolt action rifles, since they're by far the most common. Bolt action rifles generally enjoy higher fps limits, are generally more quiet than their semi-automatic counterparts and are easier to work on. The downside of bolt action rifles is that they have a slower rate of fire, but sniping is about quality over quantity. If you spray enough bb's you'll eventually hit something, but sniping is mostly about taking down opponents in the first shot. The lower rate of fire is therefore generally not considered a real problem.
The other category are the semi-automatic rifles, AKA DMR's (designated marksman rifle). This is basically any airsoft gun which is restricted to semi-automatic fire only and with a scope mounted on top. They generally enjoy higher fps limits than full-auto guns but lower than bolt action rifles. Some fields won't even allow them to shoot any hotter than full auto guns, so this category is less common than the bolt action sniper rifles. They have a higher rate of fire than bolt action rifles at the expense of some range and accuracy.
I'll be talking about bolt action guns in this guide, since a DMR is essentially any airsoft gun which is upgraded and tuned to make it shoot far. Any gun can do that, be it a stubby M4 or an M14 or an SVD :tup:
Now, there are two types of bolt action rifles, gas powered and spring powered. I'll explain the advantages and disadvantages in the next section.
There are a few other "special" cases, such as shell ejecting sniper rifles which have a small gas reservoir in the shells, or old guns with some pneumatic operation similar to modern HPA guns, but they're rarely seen and I've never seen one actually being used :hehe:
Spring vs gas (HPA)
Spring powered bolt action guns are by far the most common type of airsoft sniper rifle. They're easy to take apart, easy to upgrade, reliable, consistent and they'll generally work under any condition. There are a few disadvantages though. Compared to gas guns, the bolt is obviously a lot harder to cycle. When firing, the piston slams forward. This generates sound (which is not desired) and vibrations (which affect accuracy). They also have a limited cylinder volume which means you can't use very heavy bb's if you are using a barrel that's too long.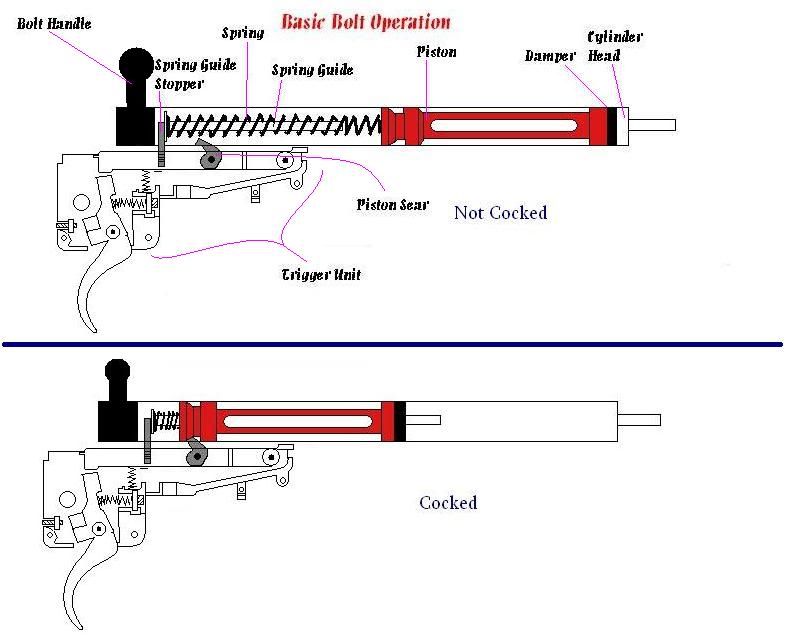 Gas powered guns operate by a vastly different principle. Gas is stored in the magazine, when you cycle the bolt you load a new bb into the chamber, and upon pulling the trigger, some gas is released and propels the bb out of the barrel. They are generally more expensive, especially magazines. They are not very consistent, so you will pretty much need to run an HPA setup if you go with one of these. HPA means you've either got a hose running from your back to your gun or you've got an internal CO2 system which requires changing the CO2 cartridge every 100 shots or so. They can however easily achieve high velocities, have an easy bolt pull, are very quiet and can be very accurate.
Things to upgrade
There are several parts that will need upgrading in any sniper rifle for it to perform on the highest level. There are essentially three qualities when it comes to upgrading parts: accuracy, durability and power.
-The accuracy (or also called consistency, how close will one shot be to the next ones) mainly depends on the quality of the bb's, the hopup bucking, the inner barrel, the hopup chamber and the airseal (better airseal = better fps consistency).
-The durability is rather obvious. You don't want any parts to fail in the middle of a game. Stock parts are often made out of plastic or cheap metal and can break easily, whereas aftermarket parts are often a lot stronger. A good example of a part that's generally just upgraded for durability in spring guns is the cylinder. The stock cylinder works just fine (doesn't influence accuracy), but a steel cylinder is stronger and won't break on you.
-Power is also obvious. You do not NEED power for long range shots, but it definitely helps to have 500 fps rather than 300 fps. Power is mostly dependant on the spring, the airseal and the efficiency of the cylinder:barrel ratio in spring guns, and the pressure, airseal and barrel length in gas guns.
The order in which you upgrade depends on personal preference. Ideally, in the end, everything should be upgraded. But if you're on a budget, you can get away with just upgrading the bucking, barrel, adding some barrel spacers and using high quality bb's on most guns.
When choosing a gun, it is important that they can be upgraded. Especially the barrel group (barrel, bucking, chamber) must be upgradeable to achieve the high degree of accuracy needed for airsoft sniping.
A couple of concepts you may not be familiar with (such as airseal, consistency, cylinder volume) are listed here:
-Airseal: When you fire your gun, you want as much energy as possible to go into the bb. If energy gets lost, you will need to compensate with a heavier spring or higher pressure. Especially using unmodified stock parts, lots of energy can get lost by air escaping anywhere other than down the barrel. By improving the "airseal" in the the hopup chamber and the cylinder head (or nozzle), you prevent energy getting lost this way. There are several methods to improve airseal (see guides at the bottom of this post). Testing airseal is easy: cock the rifle, make sure NO bb is chambered, place your finger firmly over the muzzle of the inner barrel, and pull the trigger. If any pressure gets lost before you remove your finger, then the airseal is not 100%.
-FPS consistency: Mostly depends on airseal in spring guns and pressure system + airseal in gas guns. With ideal consistency, the energy in each bb is the same for every single shot. Obviously that's not possible in the real world, but you can get pretty close. You want the fps for every shot to be as close to the previous one as possible.
-Cylinder:barrel volume ratio: Mostly determines efficiency for spring guns (also applies to AEG's). I've written a lengthy guide explaining all this already so I'll just leave it here :hehe:
http://www.airsoftsniperforum.com/32-general-sniper-talk/14303-cylinder-barrel-ratios-explained.html
-FPS consistency of HPA vs gas: I've already stated that you need to run an HPA setup if you go with a gas gun. This is because of the cooldown effect that green gas (or any gas, really) exhibits. Due to the laws of thermodynamics, if you let a gas expand (which is what you do when you fire bb's), it will cool down. This, along with the fact that there's less gas left in the reservoir, reduces the pressure of the gas. Reduced pressure = reduced fps. So therefore, the fps depends on how many shots you've already fired (gas left in magazine) and how many shots you've fired in the past minute or so (cooldown). Which makes the fps consistency VERY bad on gas gun. ±50 fps is not uncommon on stock gas guns, whereas spring guns can easily achieve better than ±10 fps. If you have an HPA setup you will have a regulator, which regulates the pressure and keeps it constant, which results in outstanding fps consistency. Since fps consistency is needed for accuracy, it is pretty much mandatory to go with an HPA setup when using a gas gun.
Different platforms
There are several rifle platforms available. When it comes to spring guns, most are based on the Tokyo Marui VSR-10 or the Maruzen Type 96. The Tokyo Marui L96 AWS is also seen every now and then. For gas guns, most are based on the Tanaka M700.
When you've chosen whether you want a spring or gas platform, you must choose which specific platform you want. When you're using a gas gun, you're pretty much stuck with the M700, but with a spring platform there are more options:
TM VSR-10
-The VSR is based on the real steel Remington 700. It's light, has a big cylinder and there are tons of aftermarket parts available. They use VSR style inner barrels and buckings, but can be customized to fit AEG style barrels and buckings using aftermarket chambers. The VSR is arguably the most common platform and in my personal opinion the best one.
-The Type 96 is based on the real steel Accuracy International Arctic Warfare. All the parts are different from the VSR, but, just like the VSR, there are tons of aftermarket parts available. Upgrading this gun isn't an issue. It takes type 96 barrels and buckings, but when you've got an aftermarket chamber you'll be using AEG style barrels and buckings instead. It has a couple of disadvantages compared to the VSR though, most notably that they're a LOT heavier and the cylinder is slightly smaller. VSR style buckings are slightly better than type 96 or AEG buckings, but with the right parts and some love, this platform can perform just as well as the VSR.
-The L96 AWS is again based on the AI Arctic Warfare, but this version was designed by TM rather than Maruzen. This gun has the magazine in the correct spot (unlike the VSR and type 96). To make the bb's go into the chamber, a clever, but cumbersome feeding mechanism is used. This makes the gun rather specific when it comes to parts and harder to disassemble and work on. Furthermore, not all parts can be upgraded: there are no aftermarket hopup chambers available for this gun, and while a TM chamber is decent, it requires work before it'll perform. It takes VSR style barrels & buckings, which is a plus, but the specific parts and feeding mechanism make this gun nowhere near as practical as the VSR or type 96. Yes, the magazine looks cool in the right spot, but from a practical point of view, I would not recommend this gun.
There are a couple of other guns out there that do not fit in these three categories. Most of them are hybrids and harder to upgrade. An example of this is the WELL MB-06, which is a type 96 with a different cylinder and trigger box which is still perfectly upgradeable. Or the SW M24 which looks like a VSR-style gun but is actually aps-2 (type 96) based on the inside, again with slightly different specs which can be upgraded if you have the right parts. Then there are also completely different guns. For example, in the past there used to be an L96 going by the name of AGM 002 or something that actually had a VSR-style receiver but everything was off-spec and they actually took shotgun magazines instead of conventional VSR magazines. Stuff like that is to be avoided for your first gun.
Then there's also the Novritsch SSG24, it has strong internals so it doesn't need upgrading of the cylinder/trigger group. However, the barrel is made out of aluminium and while the barrel and bucking can be upgraded, the chamber will also need work to accept aftermarket buckings properly. Without any upgrading done, this gun will outperform the other guns on the list, but after having upgraded those other guns they will perform better than the SSG24 due to a better barrel group. Of course you can also upgrade the SSG24 and that would get it on the same performance level as any other upgraded sniper rifle, but if you're going to upgrade anyway then you might as well go with the much cheaper VSR in the first place :yup:
Another option not falling into the common categories is the Silverback SRS. This is a very unique gun and doesn't take a lot of aftermarket parts. Then again, with the strong internals it doesn't really need anything other than a beefier spring and a good barrel group either. Personally, I don't like it because it takes AEG buckings and has a weird chamber design that needs some work to get something decent in there. Your best bet is probably a good inner barrel with an R-hop and custom nub or something. If you can live with the bullpup layout, are capable of upgrading the barrel group DIY style with an R- or flat hop and want something different than all the other bolt action guns, this may be a cool option.
There's also the new ARES Striker which is yet again a bit of a unique gun but it does take some more standardized parts and due to the popularity brands have started making upgrade parts for it. Personally I don't like it due to the lack of cylinder volume which basically results in low efficiency, but again, it can be made to work, and if you want something less standard than a plain old VSR or type 96, this is an option you can work with if you keep the small cylinder in mind.
There are also a few true unicorn guns out there, most of these have been out of production for years or are not skirmishable at all. Examples are the ARES WA2000, classic Asahi guns or shell ejecting sniper rifles. Many of these use proprietary internals and while some accept standard-ish parts, none of them can truly be upgraded to a modern day standard. Unless you have access to a machine shop, a lot of time on your hands and a lot of experience, these are not usable on the field.
In fact, with the exception of the Striker, I would stay clear of anything bolt action bearing the name "ARES". While all looking great, these are usually expensive wallhangers.
TM L96 AWS
Choosing the right brand/model
OK, now that you've chosen a platform, it's time to choose a specific brand and model. Tokyo marui makes two (or well actually three but I'm ignoring the third) versions of the VSR-10: the pro version and the G-spec. They have a different bolt handle, the pro version has a longer barrel and the G-spec comes with a suppressor. But other companies make VSR's (or rather, clones) as well, and sometimes with even different configurations (stocks, barrel length). The common thing is that they all have VSR parts on the inside.
The VSR is copied by many brands, most notably JG (jing gong), WELL and A&K (I may be missing a couple). Why is this important, you ask? It's simple really: price.
Clone guns are a LOT cheaper than genuine Tokyo Marui or Maruzen guns. And while the quality of the internals on clone guns is bad, you are going to be swapping them out anyway. The external quality is pretty much the same on all those guns, and paying an extra $200 for a stock that has a TM stamp on it doesn't really make sense.
To illustrate: a TM VSR-10 will cost you $300 or so. A JG BAR-10 can be had for $100. The BAR-10 is a very good copy, and the external quality is the same as on the TM. The BAR's internals are crap, but by buying the BAR rather than the VSR you will save yourself $200. If you use those $200 on upgrade parts you will have a gun that easily outperforms the genuine VSR for the same price.
The only reason to buy a genuine TM gun is that you're not going to upgrade the internals. But if you are not upgrading the internals then you are doing something wrong in the first place and you're better off just buying an AEG :shrug:
To summarize: do yourself and your wallet a favour, buy a "proper" clone gun. What is a "proper" clone gun? Well, here you go:
-VSR's: JG BAR-10, CYMA 701, , WELL MB-02*, MB-03*
-Type 96: WELL MB-01, MB-04, MB-05, MB-08, UTG MK96, TSD 96
-L96 AWS: Really only the WELL MB44xx series. Some take specific cylinders, I would not recommend these.
-M700 (gas): KJW M700
All these rifles have the same internals and are built to the same specs* as the TM, Maruzen or Tanaka version they're based on. The MB-01 is exactly the same as the Maruzen Type 96. The MB-04,05,08 are the same system, but in a different stock. All of these guns are fully upgradeable and are a great way to start with as your first airsoft sniper rifle.
*The VSR's made by WELL (MB02,03,07,09,10,11) all have a slightly off-spec cylinder (slightly thinner). All parts are compatible but if you go with a VSR-sized cylinder you will have to do a bit of fitting. Fortunately, airsoftpro specializes in these guns and makes cylinders to fit them, making them a pretty good choice. The WELL ones are by far the cheapest clones out there and otherwise perform just as well with the right parts, so they deserve a spot on the list. Just keep this flaw in mind if you buy one of these.
What parts to upgrade first
It should already be obvious that you do need to upgrade these guns before they'll work. Even if you do, for some stupid reason, buy a genuine TM VSR-10, you will need to upgrade it because the accuracy is not the best you can get and those things shoot sub-300 fps. The clone guns shoot slightly hotter out of the box (between 400 and 500 fps generally) so they can be fielded with the stock parts when it comes to the trigger + cylinder internals. Type 96 rifles even come with a 90 degree trigger installed (and so does the A&K M24), so that's a great plus.
For gas sniper rifles, that's obviously different. There is no cylinder or piston that needs upgrading. What you will want to look at though is the airseal (the bolt) for maximum accuracy, but they can reach very high fps on the stock configuration.
What goes for any platform though, is that you will want to upgrade the barrel group. This means the bucking, barrel and hopup chamber, in that order. You will also want to stabilize the barrel with barrel spacers. I'm not going into detail on how to do these upgrades since there are already some very decent threads written on that subject :tup:
For spring guns however, my personal prefered upgrade route is:
Quality bb's -> bucking -> barrel + stabilization -> chamber -> piston -> trigger -> rest of cylinder -> spring
Useful links
I'm not going to make this guide any longer than it needs to be. There are some great guides written by very knowledgeable people on how to upgrade specific rifles:
-VSR's:
http://www.airsoftsniperforum.com/41-vsr-rifles/6075-advanced-vsr-sniper-building-guide.html
-Type 96's:
http://www.airsoftsniperforum.com/42-maruzen-rifles/6465-advanced-l96-sniper-upgrade-guide.html
-L96 AWS:
http://www.airsoftsniperforum.com/44-others/16010-upgrading-l96-aws-platform.html
-M700's:
http://www.airsoftsniperforum.com/44-others/10925-ultimate-kjw-m700-upgrade-guide.html
Airsoftsniperparts.co.uk has a great page that lists many available spring guns and the internal parts they have. If you're not sure what you're dealing with, be sure to check this page, it contains a ton of knowledge:
Identify your rifle
Some picture & info sources (before people start hating again :hehe
:
Airsoft Retreat - Airsoft & milsim news, reviews, forums, gallery, technical articles and community interaction
http://www.airsoftsniperforum.com/44-others/2007-whats-difference-l96-clones.html
All of the information written here can be found on this forum, I merely compiled it in an easy to read package that contains everything you need to know when choosing your first sniper rifle. I hope this saves some people from buying things that they won't need :yup:
If you have any comments, remarks, angry rants or anything you'd like to add to this, leave it down below or shoot me a PM :tup: