Discussion Starter
·
#1
·
Christmas brought me some goodies for my rifles so I thought I'd post up some pictures. Anyone who is curious about the PSS2 zero trigger should check out the review I'm releasing in a couple days.
Classic Army M24
This started as a completely stock CA M24. It's now been fitted to the hilt with aftermarket internals. It took a lot of time and certainly a lot of cash, more than I'd like to even think about. But it's mostly done now. Shoots 525 consistently, here is what's inside:
-CA M24 civilian
-PSS2 Teflon cylinder
-PSS2 cylinder head pro
-PSS2 3-element piston
-PSS2 red piston head
-PSS2 7/9mm steel bearing spring guide
-PSS2 zero trigger
-PSS2 steel bolt handle
-PDI SP150
-PDI M24 hopup chamber
-KM TN teflon coated .04 barrel
And outside:
-Leupold M3LR replica
-G&P KAC style low rings
-King Arms low profile bipod
-Classic Army muzzle brake
-Karsten's Kydex cheek rest
Future plans:
-Remington Kwik Klip 10-round box mag and trigger guard
-Some kind of long rail like the M24A2
-Integral suppressor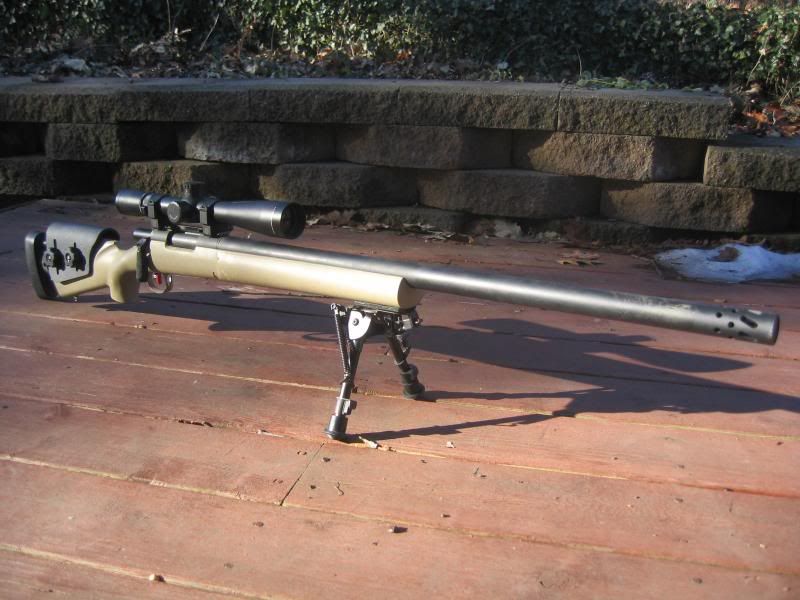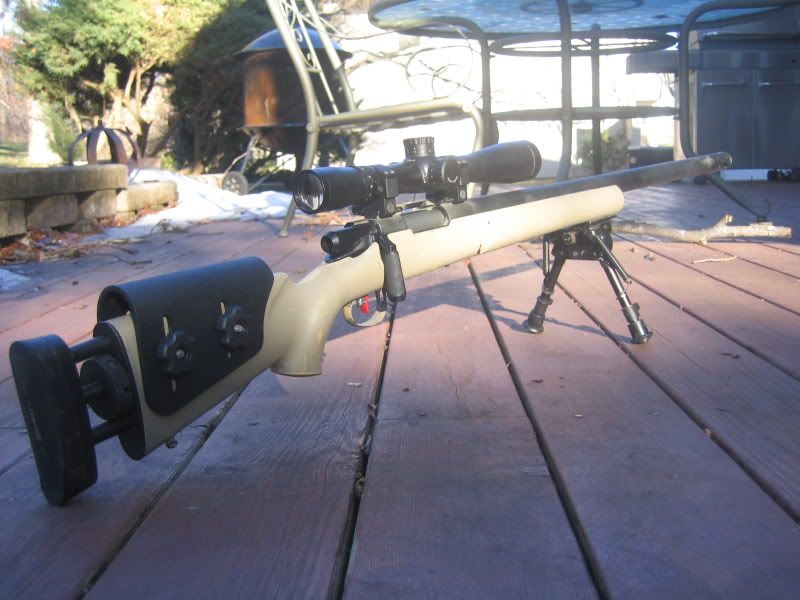 TM M14 DMR/Mk14 Crane
When I first got this gun it was a regular TM M14 with a Guarder FTK. I bought G&P's Mk14 Crane Proto kit and a couple other parts. I just got the G&P 9.6v 3200mAh battery for it so it'll never be short of power again. It shoots around 425 and is accurate as hell.
Inside:
-TM M14
-Guarder FTK
-Guarder steel cutoff lever
-Madbull 6.03 tightbore
-G&P 9.6v Nimh battery
Outside:
-G&P Mk14 Crane stock
-G&P EBR barrel & gas block (not pictured)
-G&P Mk14 QD suppressor (not pictured)
-G&P scout mount & handguard
-Military-style scope mount
-Custom bipod stud
Future plans:
-Gas? I want it to be GBB! Waiting for a CO2 Ver7...
-Mosfet with AB
-Eotech 552 or Aimpoint replica for the short barrel
-A big ass torch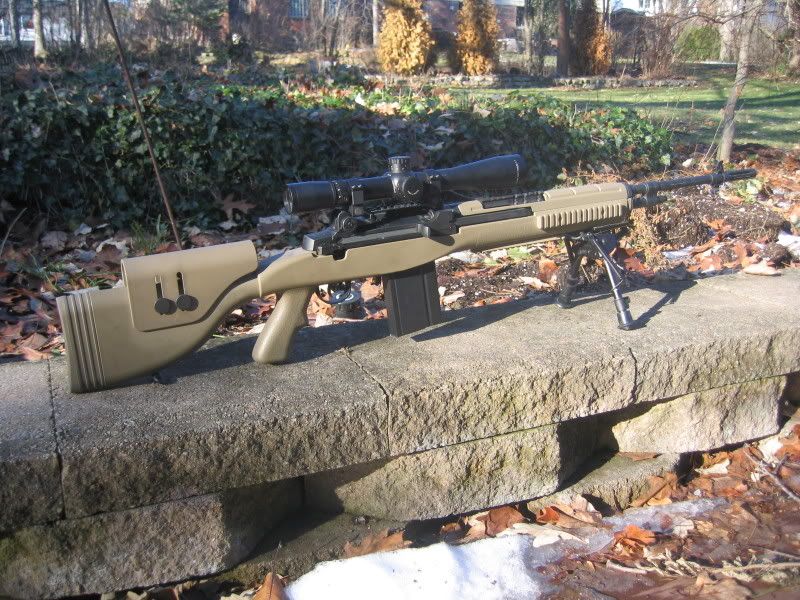 Questions and comments welcome.