Discussion Starter
·
#1
·
Not sure how many of you fellow l96 users have used the guarder bolt handle, but I purchased it alittle while just in case my stock bolt handle was to give out.
Link to the bolt handle:
http://www.airsoftatlanta.com/product_p/47891.htm
Turns out, the only thing included is the actual bolt handle. This means you will have to use some of the other parts that come with your rifle.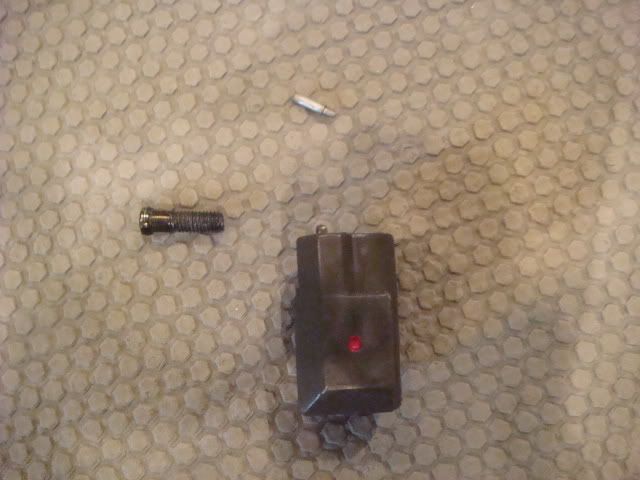 In the image above, you will need all three of those things. Be careful not to lose the small metal piece (silver) as this is very important, and unless you have a spare like me, if lost, you would be in big trouble, regardless if you are using the stock bolt handle or not.
Lets start off with the guarder bolt handle, and its feel, durability, etc. and then move on to installation.

Guarder bolt handle
Feel
This bolt handle feels way better than the stock handle that is present with the UTG mk96. I cannot speak in terms of how it feels compared to the maruzen's bolt handle, but all I know is that the guarder handle is the real deal. It does not have that pot metal feeling to it that the stock handle on the mk96 has.
But do not get me wrong here. The stock handle on the mk96 has held up great for me, and shows no signs of breaking. However, put this up against the guarder handle, and there is a significant difference.
Not much else can be said about it, after all its just a bolt handle.

Installation
Here is where things get very tricky. One would think that to install this, just take out the end screw, switch out the stock bolt handle for the guarder one, and tighten up the end screw, and "poof" you are done. However, it was not that easy....In fact it took me numerous hours to get this thing to work.
Step 1: First, take off the stock handle and all the other bits and pieces that were shown in the picture above. Lay them out on a sheet or something, to avoid them getting lost.
Step 2: Go get some sand paper. Now I did not have any, so you know what I used....A brick. Yep, just a normal ol piece of brick I had lying around. You will be using this to sand down the small silver metal piece. Why you ask?
The guarder's handle has a small hole where that little silver piece goes. It turns out, its way to small for the silver piece to slide in. You will need to sand down the hole thing. After lots of sanding, you will notice that the silver piece should slide in the handle's hole, and should stick out the other side.
Silver piece
Silver piece going through the hole on the bolt handle
Silver piece sticking out the other side of the bolt handle
Keep in mind here, that this is not the actual guarder bolt handle. That is on my rifle at the moment, so I just used the stock bolt handle as a demonstration for you all
Step 3: Now that the silver piece has been sanded down, and fits through the handle's hole (so scientific)
, its time to sand down yet another part.
Step 4: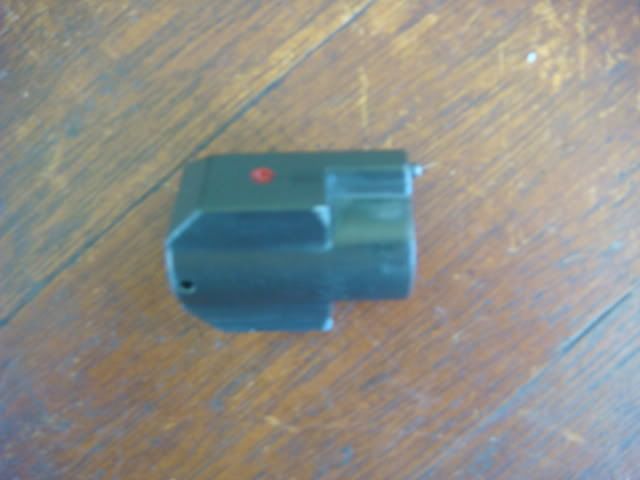 Notice where the allen wrench is pointing. That little piece needs to be sanded down on the sides to allow it to push through the small hole on the guarder bolt handle. This does not need to be sanded much, just alittle.
Step 5: Now give it a try. Put everything back together, and attach it to the rifle. Try cocking the rifle, and see if it works. If not, repeat steps 1-4. This took me a good couple of hours, so do not get frustrated if it does not work the first time.
Only tool you will need.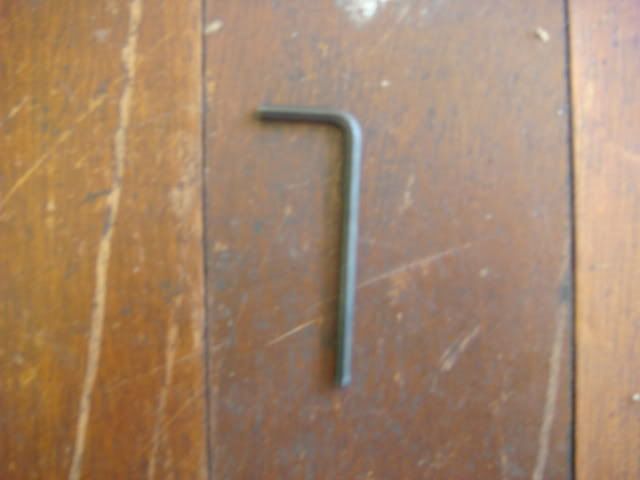 This will be used to remove the end screw, and to tighten it back up.
If you are reading this far, hopefully you got yours to work. But to tell you the truth, I doubt many if any of you own the guarder bolt handle. But hey, if you do, here you go
Here is a picture of the guarder bolt handle on my rifle
Here is a comparison between the stock bolt handle and guarder one.
Guarder on left, stock one on right.