This thread will be updated with each chapter as it is written. There is much more to come!!
Becoming an Airsoft Sniper
Intro
Some people find it exhilarating, some find it boring, and some are still having trouble understanding the fact that a sniper is a person and not a rifle.
Hi, my name is Fuzzywolly, and I will be your tour guide through the "Art of Sniping". Despite only being serious about this role for a couple of years now, I have learned a lot through my experiences, both the hard and easy way. You see a lot of younger and newer players enter this role expecting to be like the sniper in Shooter, popping long shots from distance and what not. What many fail to consider is the fact that the airsoft sniper is not like in the movies. Our guns are "toys" and are not capable of performing the same tasks of that of a real rifle. What does this mean? Well it means you are not going to be sitting ½ mile off the trail, picking off enemy forces like it was a dead cow on the side of the road. Your rifle, in comparison to that of the "real deal" is…
1.Inconsistent
2.Less accurate/precise
3.Less powerful (trust me, that's a good thing)
With that said, this brings me to my first point. While a few airsoft rifles out there are capable of extending their range beyond 300 feet, this is nothing in comparison to that of a real rifle. Therefore, the airsoft sniper has to be able to deal with the fact that they are truly outgunned and quite possibly out ranged on the field. Even if the sniper is to have the greatest range on the battlefield, you have to consider the fact that it is probably not by much. If luckly, the sniper has an extra 100 feet of range compared to that of the other players. With all of this said, what exactly makes a airsoft sniper, a sniper???
To answer this question, I will go into depth talking about the various aspects and keys to the airsoft sniping role. With these keys, comes a good bit of hard work and practice. These keys offer a small advantage on the field, and must be utilized correctly for the sniper to be successful. The following will be arranged into chapters and will slowly be updated as each one is written.
Enjoy!
Chapter 1: Concealment
I put this at number one for a reason. This is by far the most important skill the sniper needs to utilize/be capable of on the field. A compromised sniper most likely will not be able to complete his mission, and might require the aid of his fellow squads/teammates in order to get him out of there unharmed. The sniper has now become a liability rather than an asset. In a nutshell…Don't be a liability, be an asset. This means don't be compromised.
Now granted, not every game requires the sniper to be super stealthy ninja like. Sometimes all the sniper has to do is be in a position to complete the task at hand, such as covering a squad in battle. Sure the enemy knows where the sniper is, but the key is, no one can reach him. The sniper is in a position to help his team, not get himself shot right off the bat.
However, some situations require stealth. The sniper, in order to be successful, must stay concealed and hidden. If the sniper is spotted, the enemy will typically engage him while quickly putting together some kind of flanking. Even if the sniper is to have a spotter with him, the sniper team is often outnumbered, outgunned, and must fall back at any chance of surviving the confrontation.
To help prevent the situation above from happening, the sniper needs to figure out a way to stay hidden/concealed. By doing so, the sniper can scout the area and help relay information to the other squads on the team. This often involves scouting ahead, into enemy territory. Therefore, a chance to encounter enemy forces is not uncommon. The sniper must be fully prepared for situations like this. This brings me to the next point:
The Ghillie Suit: Depending on the terrain, a ghillie suit may or may not be a useful tool. Wearing a ghillie suit in an urban environment screams sniper, and this is not necessarily a good thing. In fact, it's more bad than anything. Now that the enemy forces know a sniper is in the area, the opposing team can plan accordingly, set up a flank, get rid of that "nuisance" on the field known as the enemy sniper. And all this happened because a sniper failed to determine the appropriate time to wear the suit. Unless the surrounding areas have some sort of vegetation, a ghillie suit is obviously not useful here.
On the other hand, in wooded areas and desert terrains, etc. a ghillie suit can prove quite useful. Just make sure to determine what kind of suit is appropriate, including the color choice, ghillie style (stalker, full suit, etc.), wearing ghillied pants, etc. is necessary. For more information regarding what ghillie to choose for your environment, click on the following link:
In addition, the airsoft sniper, similar to the "real-deal sniper", should take pride in their choice of camoflauge. Every time I see a store bought ghillie on the field, I die a little on the inside. Sure, some store bought ghillies can be effective, but most are quite frankly a waste of dough, and just more weight to carry on the field. For the majority of the store boughts, they suck..They offer no customization, and cannot be used as effectively as one that is made by you yourself, or another person (perhaps you bought in a trade or something). In my opinion, a ghillie needs to be customizable. This helps the user blend in the various changing terrains. Most, and notice I said most, store bought ghillies do not offer this easy customization including..
-Adding vegetation
-Removing and reattaching jute
-Re-dying (easily)
A sniper must know his ghillie, just like he must know his rifle. He must know how to effectively use it in any environment, when to add more veg, and when to take some off, and replace it with something new. A sniper makes changes when necessary. This can be the difference between getting spotted or staying concealed.
With that said, the sniper must use this tool to his advantage. Doing so will help the sniper on the field complete his mission/task. However, there is more to consider than just the actual apparel for the field, bringing me to the next point in this guide..
Landmarks: I typically stay away from land-marks that will catch the enemy forces eye when scanning an area. For instance, a large over-sized rock is something that I would avoid/stay away from. The enemy's eyes will gravitate towards this rock, scanning it before scanning a smaller, less noticeable location/land mark. Rather than let these land-marks provide a disadvantage to the sniper, use them to your advantage. If the enemy spends times focusing on this area, it gives the sniper the opportunity to set up a hide and either engage the enemy forces or "keep" away from them.
For urban areas, an obvious land mark that can provide devastation to the sniper is the window. Many people find themselves "sticking" their rifles out of the window, basically giving their position away. The sniper needs to ensure that this will not happen. Keep your rifle inside the window, not allowing it to stick out. Something simple like this can really benefit you on the field.
Setting up your hide: When setting up your hide, scan your surroundings. Know which areas will be good to fire from, establish your MED's, and plan escape routes. Basically, take the worst possible scenario and make sure you have a plan of action in case it actually happens. That way, you are prepared for what every does happen, and can act without thinking or at the very most, thinking quickly.
Having multiple escape routes is key. Take into account that if an enemy spots you, that they will initiate some sort of "flank", quite possibly blocking one of your escape routes. Having another way out of the hot zone is something that might just keep you in the game a little longer.
Here is a pic of a basic sniper hide: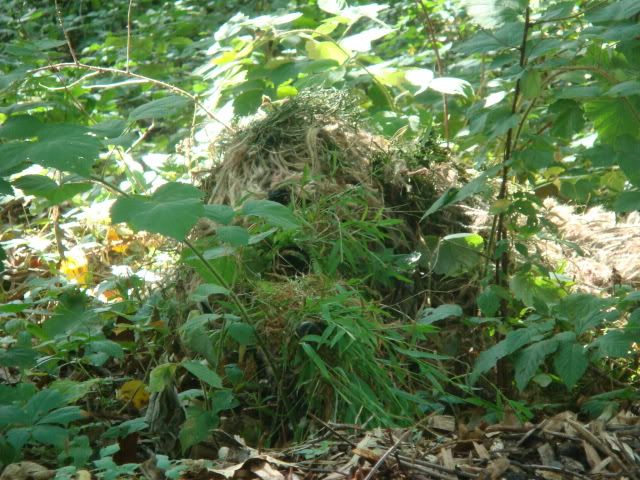 With all of this said, one of the key aspects that many people forget, is not just concealing yourself, but also your rifle. There are various methods to do so, and knowing how to do perform these various styles can really benefit you on the field. Here are a few examples:
1.The burlap wrap: Taking burlap, which can be had at any hardware store, cut a thin, long piece, that can cover the entire rifle's outer barrel. I typically use this method for the late fall and winter months when vegetation is scarce. With the use of some rubber bands, the burlap can be secured, not going anywhere anytime soon. The burlap can also be dyed to any color to suit your needs/conceal your rifle in the specific environment. Do the same steps above with the scope/optic.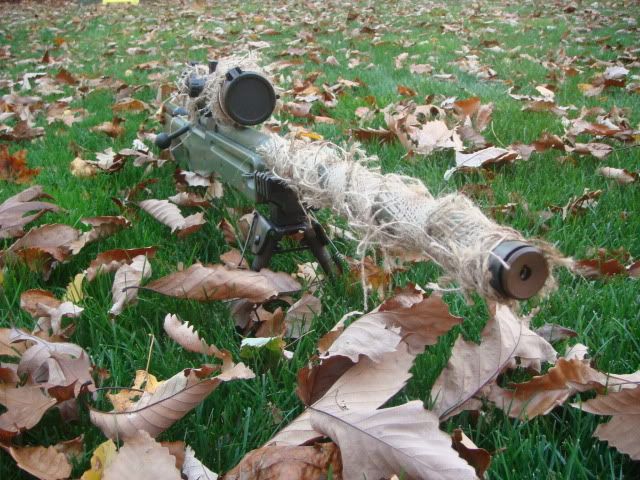 2.100% Veggie Dinner: My favorite of the rifle camo-ing methods. With the use of some rubber bands and all the vegetation you seem fit, apply it to the rifle. Depending on the environment, tall grass alone may suffice. You may also find the use of other vegetations such as ferns to be a nice addition to the salad.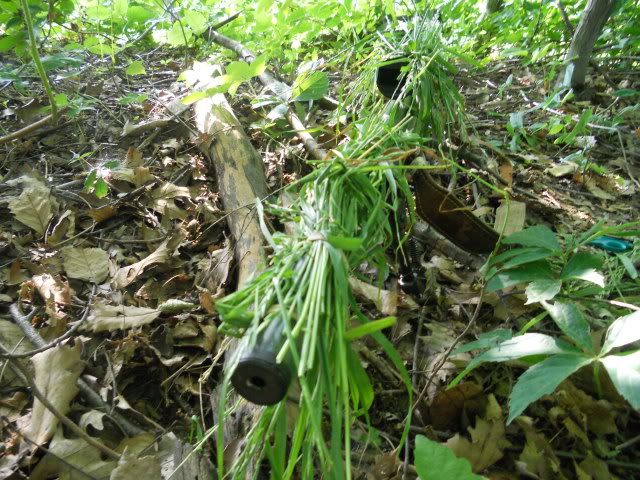 3.Veg+burlap combo: Pretty self-explanatory. I start with a burlap base, and cover it with some vegetation. The burlap, acting as the base, ensures that some sort of camoflauge is attached to the outer barrel/scope at all times. Sometimes veg comes off, especially in a fast paced or long game. Remember, more veg can always be attached later on, and is actually recommended.
There are obviously more methods out there, but those are just a few of my favorites that I practice using on the field. My next point goes into more detail about concealing your scope, besides adding vegetation and burlap.
Scope Glare: You would be surprised how many times this gives away someone's position. Some people prefer using a bird nest to rid of scope glare, but I prefer the simpler method, involving the use of some electric tape. Here is a pic that pretty much explains this method in a nutshell.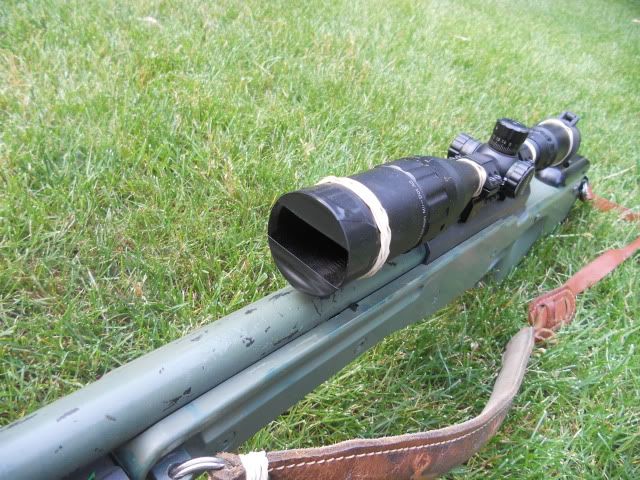 Now that you have the basics for concealment, you (the sniper) can now focus on using/applying the other keys to airsoft sniping that will help you on the field. But first, here is a recap talking about and briefly explaining a few tips for concealment…
1.Know what tools of camoflauge to use based on the environment around you. A ghillie suit or rifle wrap may or may not be necessary.
2.Avoid obvious landmarks that "stick out". This includes being in, or at the base of a tree, large rock, etc. Don't bring attention to yourself.
3.A ghillie does not make you invisible.
4.Prevent vegetation/burlap from blocking the view of your optic. Easy to fix, but might just cause you to lose your target in game.
5.Use a sunshade/make a kill flash of some sort. There are plenty of methods to do so such as using nylon, electric tape, or the vegetation around you.
6.Use floss to add vegetation to your ghillie.
7.Scissors or a knife can help cut/add vegetation to your ghillie/rifle.
8.A lighter ghillie can be darkened more easily. A dark ghillie is much much harder to make lighter (in terms of color).
9.Keep an eye on your vegetation. It will start to die at some point. This can be both good or bad.
10.Always have a plan including an escape route when establishing your hide.
Some pictures for your enjoyment: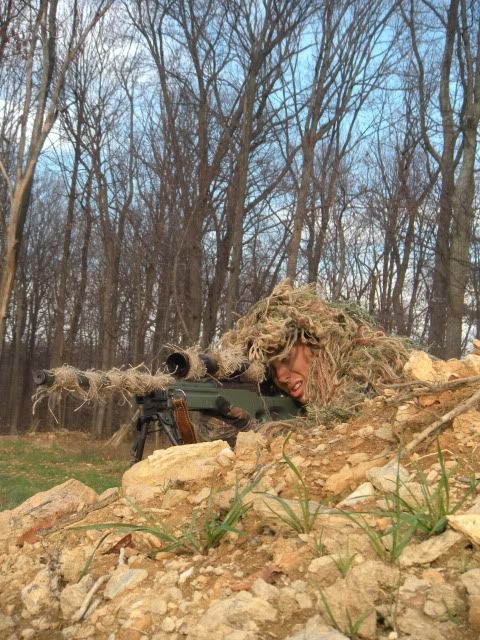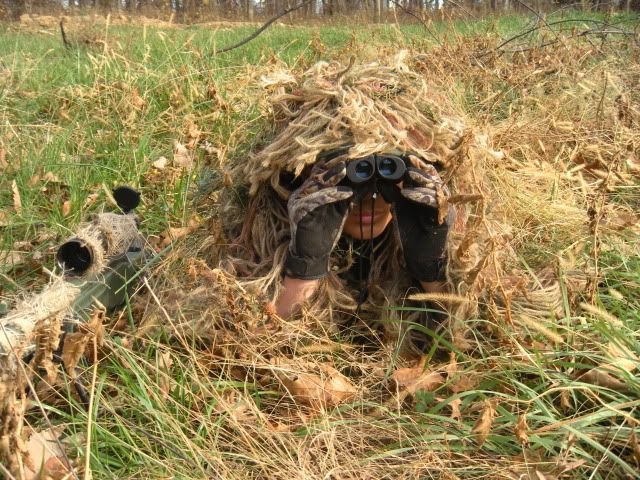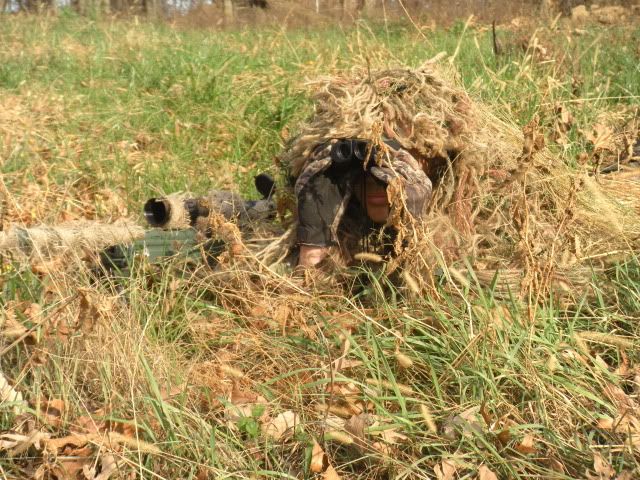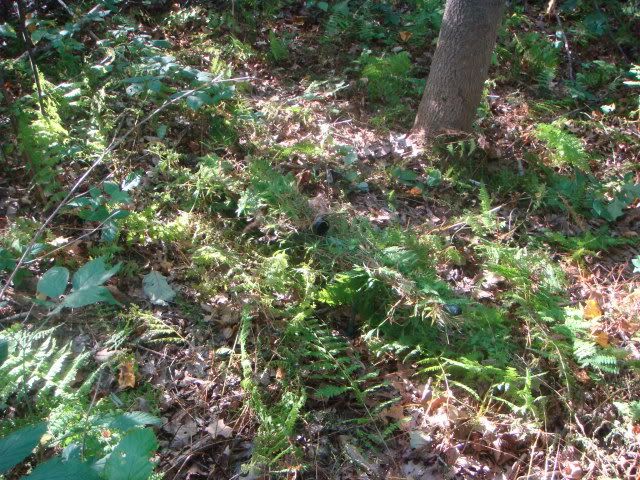 If you asked me to define the sniper's most important job in one word, I would respond, communication. The sniper is the eyes on the battlefield, and sees the things not everyone else can see. By getting yourself concealed into a nice hide, it is time to start doing what a sniper does best..communicating with his squad.
Chapter 2: Communication
Starting off, the sniper needs to know what exactly to report to his squad. The way I look at it, is their¡¦s a base chain of effect for communicating.
Sniper"³Squad"³Other Squads/Commander
With that said, in order to properly communicate with the squad, the sniper must know what to look for out on the field. Starting off with the basics, let¡¦s go over what exactly a sniper needs to look for on the field. Please note, each mission and scenario is different. These basics are solely going over just that¡Kthe basics..This will hopefully give you a general idea of what to look for out there in the wilderness.
What to look for:
1.Enemy Forces: This is obvious. If a sniper spots any sign of the enemy, report it. Let your fellow teammates know what is going on. This can be the difference between one or more people getting killed/hit.
On the other hand, if the sniper spots friendlies, report it!! No one wants to be engaged in a fire fight, only to find out that the two sides were on the same team..Let everyone know the situation, that way your squads can be as effective as possible.
Now that you have properly provided some recon, it is time to wait for orders from your squad leaders. Please read on to the later chapters for more details on how to properly engage the enemy.
2.Armory: This is continued/related to #1. When you spot an enemy, expect them to be carrying some sort of plastic slinger. Take note of this, and make sure you analyze what each soldier is carrying, both gear and firearm wise.
For instance, a soldier carrying an m60 screams support gunner. By taking into account how much ammo he and the rest of his squad has, your team can determine if engaging the enemy is a good idea. Knowing both types of weapons and the amount of ammo they have, can prevent unnecessary/dangerous encounters. Also, be sure to take into account the size of the enemy patrol/squad. This is obvious, but is extremely important. If the enemy force is too large, your squad may choose to avoid contact, or perhaps set up a nifty and well planned ambush.
3.Trail marks/Signs of People: Depending on the terrain/location, this may or may not be difficult. In dense vegetation, it can be hard to determine if someone has been here. However, knowing if anybody has passed through, can increase both your awareness/preparedness. Again, if you do notice anything, communicate and relay it to your squad. Make sure they are prepared for any close range engagements. Depending on your orders, you may choose to report and investigate, or rather, report and continue your mission at hand.
4.Noise: Especially in wooded areas with sticks and dead leaves, noise can very much play a large impact on the sniper¡¦s ability on the field. Use this to your advantage!
Probably 80% of the time, a ¡§snap¡¨ of a stick was probably just a squirrel. But you as the sniper must ensure that yes, indeed, it was just a cute lil¡¦ squirrel. If you are providing recon for your team, and you here a suspicious sound, report it. Let your squad know that there is possible enemy forces in the area. Now identify the location of the noise, and deal with the situation accordingly. See other chapters ¡§Movement¡¨ for more details on ¡§noise¡¨.
5.Scope Glare/Snipers: If you see this, immediately inform your squad leader! Perhaps this is a optic from a person¡¦s m4, or worse, a glare from a sniper¡¦s scope. Unlike most AEG¡¦s/GBBR¡¦s, a bolt action rifle can prove to be quite quiet. That is why discovering a sniper and his hide is important, and must be done before it is too late. Just like you, the enemy sniper is a nuisance on the field, and is capable of dismantling a squad in a matter of minutes. You must first contact your squad, relay the location of the glare, and deal with the situation according. Perhaps take out the sniper or if a clear shot is not available, move on and avoid the encounter. That is, if the enemy has not identified you or your squad yet.
6.Good hides/Ambush Positions: Always be sure to scan and evaluate the area for your team. Pin-point areas that are good for an ambush. By doing so, you might just prevent an ambush from dismantling your squad(s). When out on the field, ask yourself, ¡§What would I do/Where would I hide, etc.¡¨ However, make sure to take into consideration the fact that the enemy could be anywhere. It is your job as the sniper to figure out the locations of possible enemy(s), and relay the info back to your team.
7.Commanders/Squad Leaders: Sometimes this is the sniper¡¦s mission. Find, locate, and eliminate the highest ranking officers. Communicate with your squad to determine whether you have the go ahead to shoot. By communicating with your squad, your team is ready to provide cover support after the shots/target has been eliminated, etc. This is another example of communication helping you and your team be prepared.
Those are the basics for a sniper to look for out on the field. Please note, various missions/scenarios involve different targets, objectives, land marks, etc. These are the variables that each sniper needs to evaluate before hitting the field.
With that covered, a sniper needs to obviously carry some type of communication with him. There are all kinds of communication, but the way I look at it is as long as I have a pair of binoculars, some sort of camoflauge, a note pad, and a basic radio, I am set to hit the field. Sure, a fancy head set makes things easy, but as long as you can effectively communicate with your squad, any head set and/or radio will do.
To carry the communication device, make sure to have it in a position where it can be retrieved and put back quickly. I keep mine near the front left side of my battle belt. For more information regarding gear/loadout apparel, stay tuned for the following chapter(s) to come.
Overall, a sniper¡¦s most vital aspect/job is to communicate with his squad. By doing so, the team can be more effective/prepared for combat situations. One of my favorite stories was from a small game, a year or so back, where communication was vital.
I have been in games where I have not fired a single shot for games that lasted well over an hour or two. Yet, I was a key factor to the success of my team on the field. One of my favorite memories, was when my spotter and I laid at the top of a hill for well over an hour, and simply relayed information to my team, which without us actually in the battle, were outnumbered 2:1. Yet, we were able to win the game, not because of our firepower, but because of the fact that we used communication to our advantage.
Not one shot fired, but numerous enemy¡¦s killed, and all with a simple click of the radio and a quick pull of the trigger by a squad member.
Communication is the sniper¡¦s life line. Without it, a sniper is not a sniper. It is just another soldier but with a larger gun and scope.
Stay tuned for more chapters to come!