Greetings Everyone. My airsoft Callsign and general online alias is Bazz.
I am a member and veteran of sorts on the North Texas Airsoft Forum. I was browsing NTA today and noticed that AirsoftSnipingForum's Fuzzywolly had dropped by to say hello to our community. Nice guy it seemed, so figured I would return the favor.
I have been playing airsoft since 2007 and have assumed the Reconnaissance role since early 2008. I have attended 10 or 11 Local Ops, Countless "Pickmeup" Games. One LionClaws Event, And will be attending my first Oklahoma Invasion This coming spring.
My Fieldable Weapons Include:
A G&G R4 Commando with 6.03 Tightbore installed
A Stock Echo-1 MTC with external asthetics
A stock KWA KZ75
A Stock KWA MP9
And ofcourse, my Sniper Rifle. A Custom KJW M700.
Upgrades Include a Nineball Bucking, DBC PSG1 length 6.01 bore inner barrel (I had to extend the outer barrel out by an inch to fit the inner barrel.) A complete Tanaka M700 Bolt assembly with King Arms silver nozzle extension kit and G&G striker spring, printing paper barrel spacers, various Teflon tape mods to improve seals, And An HPA rig.
A lot of work went into This rifle, If i had to do it over again, purchasing the Tanaka would have saved me some money in upgrades, but ohwell. I can shoot more consistently and farther than majority of the people on NTA as of now.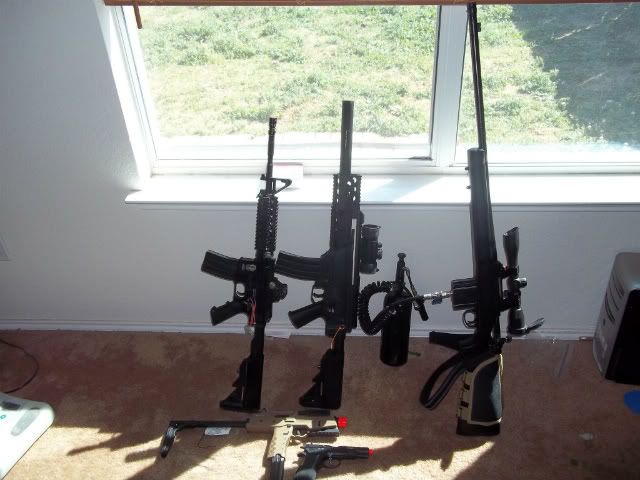 If you are interested in seeing my Fugly Face, Check out this youtube link where I explain my loadout.
Have a good one guys! Bazz out.