Here's a quick post for lefties that need some help with modding their VSR-10's or BAR-10's. This guide was originally done by TheBauer on his website, but he took down his entire site. Anyways, I will try to explain the mod in the simplest means possible. Basically, you'll being modding the bolt handle, the receiver, and the stock.
1. The bolt handle:
First, go ahead and remove you bolt handle assembly. It should look like the parts below. If you look on your unmodded bolt handle, you'll see a few structures that stick out, but are no longer there on mine. I simply removed those with a dremel.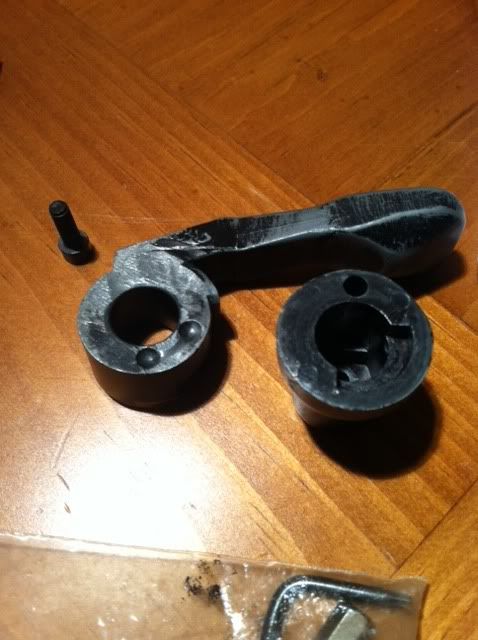 2. The Receiver
Next, this is the most important part. The key to dremmeling this part is to make the slot on receiver slightly farther up than on the right side of the receiver (you can see this on the picture below). Doing so, will allow your cylinder head nozzle to sit farther in the hop up unit, preventing air loss.
If you notice my slot, I made it slightly too big. Just try to make it a small as possible to eliminate any possible problems. I have no problems as it is below.
3. The Stock
Basically you want to make the slot on the left side, but slight farther up the stock if you compare it to the pre-existing slot on the right side of the stock. This is due to the new slot on the receiver being farther up.
Finally, fill the right side. I used QuikSteel epoxy putty. It has worked for me for over 2 years and running.
End product:
The pleasure was mine.
~Kats