Discussion Starter
·
#1
·
I was just perusing Evike's New Arrivals page, and I came across a new WE pistol. It strikes a remarkable resemblance to the AAP-01 with the upper and slide portion (and features similar functions, like the full auto fun switch), and the only noticable difference is the Glock-like lower. If it does prove to be decent, it's an AAP-01 Alternative with a metal slide for 140 bucks (which also includes the rail segments). Very tempting, considering the aftermarket Action Army metal uppers are already over $100.
Any thoughts? My biggest interest would be if it can fit the AAP stock.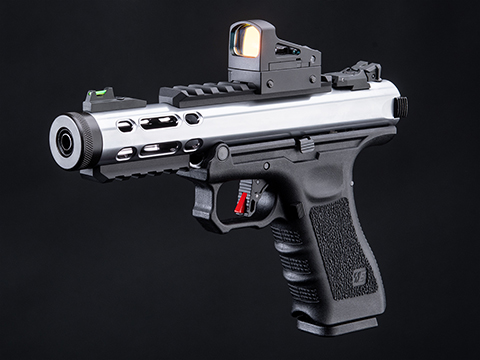 Shop The WE-Tech Galaxy series is a whole new family of full-auto capable products with similar designs, which will use magazines from pistols most Airsoft players are familiar with. The first of many pistols from the Galaxy series is the G-Model, which uses the same magazines in the Optic-Ready...
www.evike.com