Discussion Starter
·
#1
·
So I finally got my ghillie suit finished! I kept doing a little at a time so it took around four or five months for me to complete it. As you can tell from the pictures below, it looks a little small on me. That is because I unfortunately grew a little taller while I was making it.. Thankfully it is still usable and it worked just fine when I fielded it for the first time on Sunday. You may also notice that some spots on the upper back, arms, shoulders, and hat of my suit look a tiny bit bare. This is because I have cut up bicycle inner tubes tied on for attaching vegetation during usage.
My boots are on the ground in the pictures because I was too lazy to put them on. Same with my water carrier thing, which I wear underneath the ghillie suit. In the dual AK mag pouch I carry one spare L96 mag, two spare pistol mags, and a motorolla talkabout. In my holster I carry a KWA kp45 match and a speedloader in the built-in mag pouch on the holster. The knife on my belt is used for cutting up vegetation to attach to my suit.
Since this is a WIP, I intend to get a headset for easier communication with my teammates, paint my goggle frames a less obvious color, and give my ghillie suit a nice mud bath (I just gave it one and it is currently drying).
I may also make a wrap for my L96, but I'm not sure it will be needed since I already have cut up bicycle inner tubes on the gun for sticking vegetation on it.
Anyways..please feel free to post any comments, suggestions, and constructive criticism. I am fairly new to sniping (not airsoft), so I'm trying to soak up as many tricks of the trade as I can.
Now, onto the pictures!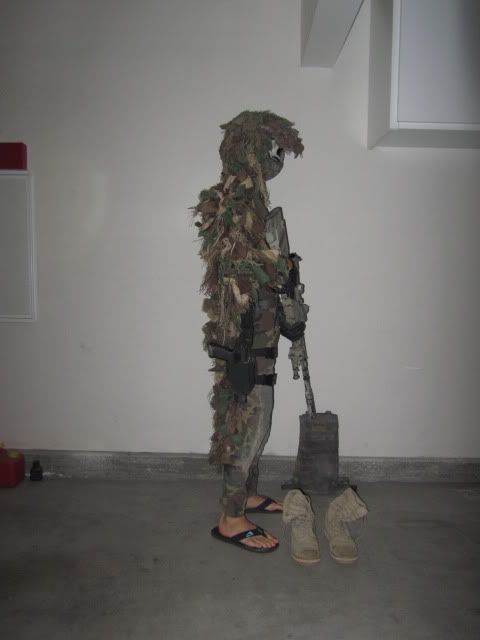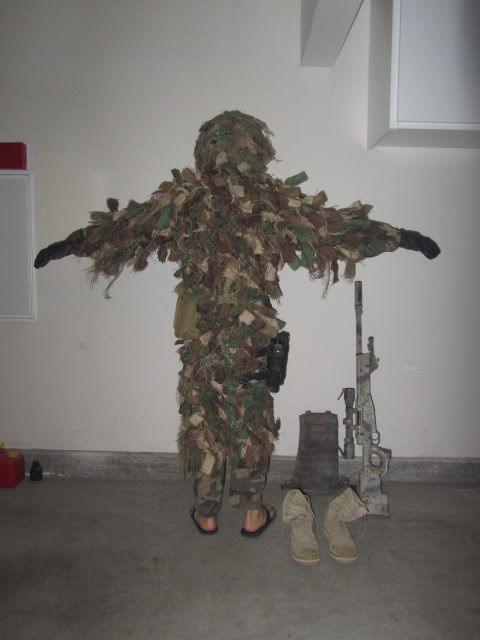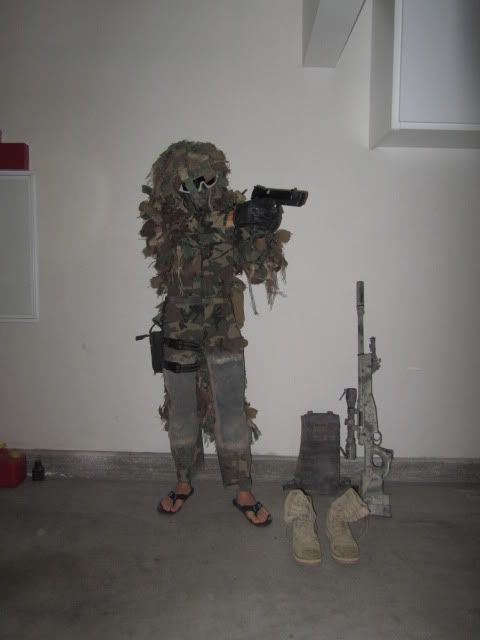 Thanks!