joe90 said:

that said sniping kills are 100000000000 times more satisfying.
If the AEG wealding geardo's take it that is :
.......
Anyway......
MINE.....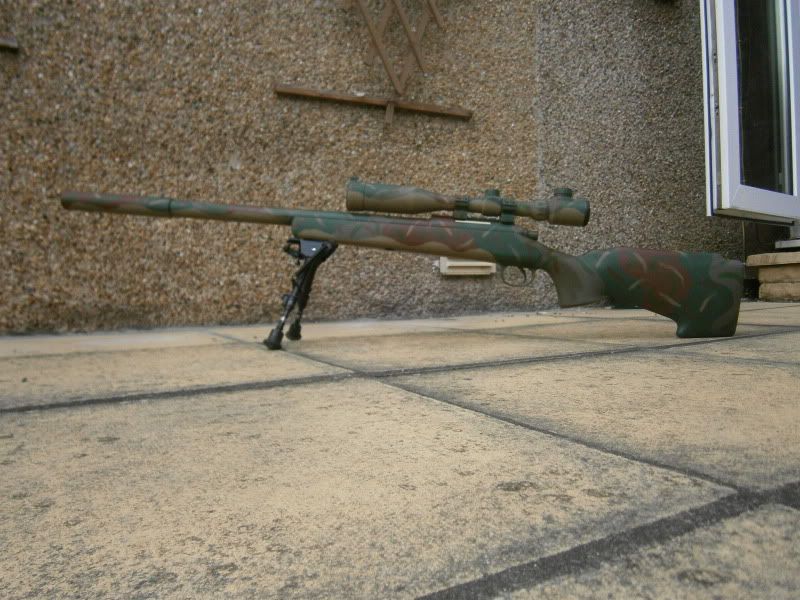 Filler work that I did to standard TM stock
Gspec, 350 fps/.2, Spec sheet.....
Laylax 45 degree piston (with airbrake) and sears/stop
Cut laylax 150 spring
Stock plastic spring guide (at the moment
)
Stock cylinder (volume reduced to match barrel)
Stock cylinder head includes home designed rubber damping buffer (home machined porting, head to cylinder thread strengthend using 3x grub screws)
340mm x 3.05 barrel + home made barrel spacer (cylinder/barrel volume balanced and matched)
Stock hop chamber (lengthened by 1mm to stop cylinder free float) with long flat hop nub (Home made), nubless rubber ( modded stock TM) and centre adjuster over solid arm (home made)
Fully functioning suppressor (cuz I can )
My other Gspec, currently in bits ready for a full rebuild, not sure on what finished spec will be yet as I'm using the 1 above to test out some stuff first, but most obvious mod is its in a CA M24 stock
And now for my old ones, no longer in one piece or sold on.....
Gspec in a warrior L96 stock
CA M24 CQB :-/
An old Well I picked up cheap fired twice and then gave away to some FNG
CA M24 in a homemade stock, see folks, I had 1 of those ASR things about 6/7 years ago :
.....
My ASR 'lookylikey' next to...... my very first VSR...... next to 'old faithful' and she's still going strong though in a different guise
Another homemade stock that held my M24 for a fair while

Thats about it I think.... atleast its all I can find at the mo, If I find any more I'll post 'em up..... makes me realise just how long I've been playing with long'uns and little white balls :-/