Discussion Starter
·
#1
·
I've been planning on doing this for some time now. What my goal with this build is to have a DMR that I can use in any situation or field. I want to be able to go from 350fps to 450fps on field, with the ability to go to something like 400fps or 500fps as well.
To do this, I plan on using one of these two rifles as my base.
First is the ICS Sportline M4/CQB.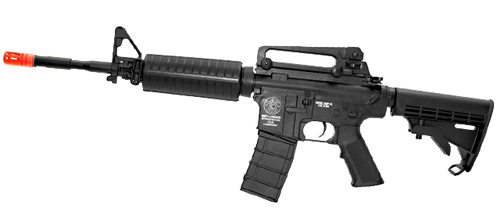 This is my first option, as it is readily available and reasonably cheap. I know there are some limits with compatibility, but the ICS gearbox design is perfect for the goal of this rifle.
The second option is the ARES AMOEBA "Honey Badger".
This is actually a very recent option, as it isn't available in any stores that I know of in the US. Due to this, the issue of cost is a factor, but the rifle has a variety of features I like. Besides being a well built gun, it has a microswitch/MOSFET trigger and a QD spring change system that can be accessed without removing the gearbox, just the stock.
Now some of you might say why choose these guns? Especially since both are more standard length/CQB size. The reason is that I already have a variety of external parts and internal parts ready to install into which ever I purchase to create a DMR style rifle similar to the MK18.
What I'm looking for is some advice from anyone who has used or knows of how these, or similar, AEGs performed in any sort of role, and if anyone has ever attempted something like this before.