Surfing on YT I found an interesting video, here it is:
Starting from this idea I thought: "Why not shimming the entire receiver too?"
So the purpose of this MOD is to make the cycling more sturdy and solid, centering the cylinder perfectly into the hop up chamber and preventing dirt comes into the receiver.
Taking measurement with a caliber the diameter of the cylinder results of 24mm and the receiver 25.9mm (MB03, the Bar10 has a tighter receiver)
The 1,9mm left must be filled!
So I bought a 0,8mm plastic sheet for more on less 1€ and cut a strip from it about 7x12cm.
I folded it with a thermo-pistol (industrial phon) using an old VSR cylinder as a reference.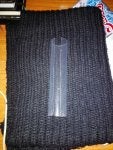 The plastic cylinder must be as regular and smooth as possible, so I helped myself with a pvc pipe used as a stamp, inserting the plastic shimmer inside, and inside of it i inserted the vsr cylinder, heating everything up with the termo-pistol.
Inserting the shimmer into the receiver I obtained this:
Then the receiver looked like this!
Remember to lube the shimmer with silicone spray
Now the cycling is really sturdy and solid, the cylinder head goes perfectly into the hop up unit and no dirt will get inside the receiver anymore! :tup: