Discussion Starter
·
#1
·
Welp.... Decided to go ahead and make a thread about my gun. Due to some money problems progress has stopped... But plans are still being made.
Anyways on to the details.
Jg sig 552. Going for a dmr because I simply love the looks of the 552, and I am on single shot all the time.
Parts installed:
Internal-
Hurricane metal bushings
Gb shimmed by me
Mad bull piston(back when they did the free piston giveaway haha)
Hurricane type 1 cylinder(polished)
Hurricane cylinder head(polished)
Guarder red poly piston head
Guarder o-ring nozzle with shs o ring
Matrix m110 spring
Echo1 spring guide
Evike brand 6.03 300mm barrel(just wanted to test their brand out)
Shedder nub
Forgot what bucking I have
External:
Zombie killer mock supresser(I'm a big zombie person)
AFG
Flashlight(when its dark)
Ics sightrail
First factory ebr stock
Parts yet to install:
Ics hop up(not even sure if it will fit but I'm going to try)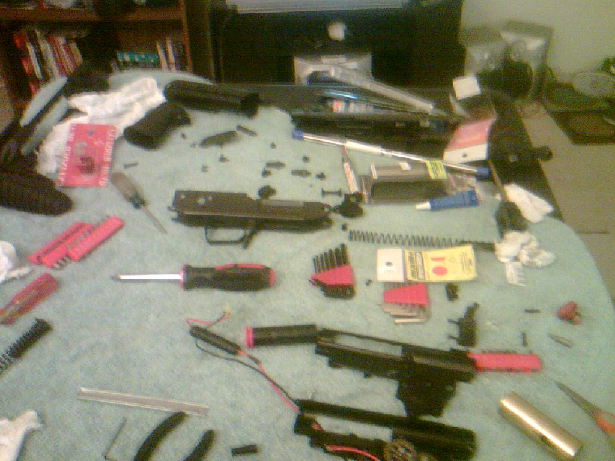 It's shooting 428fps right now, haven't broken in the spring yet. I'm hoping to get it down to 400 exactly but I think I'll settle around 415, I'd really like to use it indoors just cuz there are some cool cqb places here in ga but if not oh well, imma get a ump anyways for cqb.
No real distance or accuracy test have been done since I've upgraded the gb about 2 months ago. As soon as I finish putting the gun together I'll be fine tuning it. And yes I have done all of the compression mods besides gluing the nozzle to the tappet plate. I've also Teflon tapped/sealed everything I could. Just wanting to finish the gun before I go play with it. I'll update as I get more done
Updated: 10/29