Discussion Starter
·
#1
·
Shamelessly lifted from the sites website :
The only time I deployed the SPR as it was as windy as hell all day.
Some other in game action of me and my team mates taking it to the enemy
Our renforcments arrive, thess three gentle men are all in the reserve RAF Regiment but are also team members.
My buddy 'Sarge' and me about to do the 'Death run' to storm a building.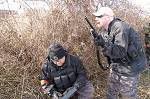 Saying my prayers to the camera man
Another team mate 'The Stig' after we made the run and got under their guns. But only just, check out the window
Stig holding same building after we cleared it.
IF YOUR SQUEEMISH LOOK AWAY NOW!! The more observant of you will notice the leg brace he wears. Thats because last year some prick knocked him off his motor bike, while they were drunk and covered with no insurance, underneath it now looks like this...
Believe it or not those are his stomack muscles, used to rebuild his leg
And next time you tell your mates your not feeling to good so your not going to play, cast your mind to this young chap who 8 months ago nearly couldn't even walk
And finally our youngest member in every sense of the word, 'Big Guns', with the midrif of the tallest member 'The Lanky Taff' directly behind him, he is 6'4" the rest of us are all 5'8"/5'9", but he is half American, so we put it down to that as most welsh men are short arses
, our teams very own Welsh element
These are only a few of our membership as about two thirds were away getting drunk because 1 of the brothers is getting married soon :'(