Discussion Starter
·
#1
·
*Paypal, Personal checks, and Money Orders accepted
*Prices do not include shipping
*Click pictures to view larger
*PLEASE try to keep the thread clean and P.M. all offers and questions. No need to post "P.M. sent", I check inbox frequently.
Tanaka m700 mags:
One 30 round -
$50 OBO
One 10 round -
$25 OBO
Both are in great condition and have no leaks. I switched to an external air rig and no longer need these.
MARPAT Vest (unknown brand) good condition.
Comes with all pouches seen in the pictures except radio pouch(pouch with pistol in it). Hydration pouch is brand new, never used. Still has shrink wrap on the mouth piece.
$65 OBO
TTW: KSC TMP HardKick Version w/ complete parts SPP gun
I'm going away from my GBBSMGs so I am just looking to see what offers I get for this.
Included:
KSC TMP - $~250 DISCONTINUED
3x 50rd Non-leaky Mags - $60ea. x3 = $220
1x 30rd Non-leaky Mag - Comes with gun
Duster Can Adapter (It is meant for use with CPU Duster, use propane or green gas at your own discretion) - $6
DIY Stock (I made a stock for it somewhat matching the RS stock that is ridiculously hard to find and expensive. Works well but isn't the prettiest thing in the world)
Over $450 total not counting the parts gun.
Although it is now a rare item I do not expect to get this much, so if you are interested just make an offer.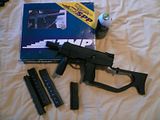 Parts Gun (SPP Model)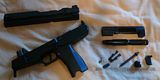 KWA Mac11
Not much to say about this other than it's a beast.
It will come with the normal suppressor but I currently can't find it.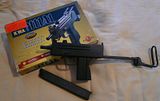 Gear and Parts
Prices are OBO
Carry handles - $10 each
DPMS LE Stock - $15
Folding m4 Stock - $25
Carry Handle Rail - $10
G&P SPR Grip w/ Motor plate - $15
2x MAG brand mid-caps - $15 for both
1x Echo1 Hi-cap - $10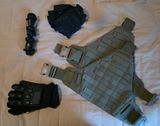 2x Triangular Drop leg MOLLE platforms - $15 each
Gloves - $10 each
NC Star 4x30 Scope w/ rings - $15
Trades:
CASV or SIR("S-System") rail system
Classics
TMP Stock
TMP mock suppressor
*I will obviously add cash where it is needed for trades.