Discussion Starter
·
#1
·
To start off this first image shows the order I've bought my rifles in from top to bottom.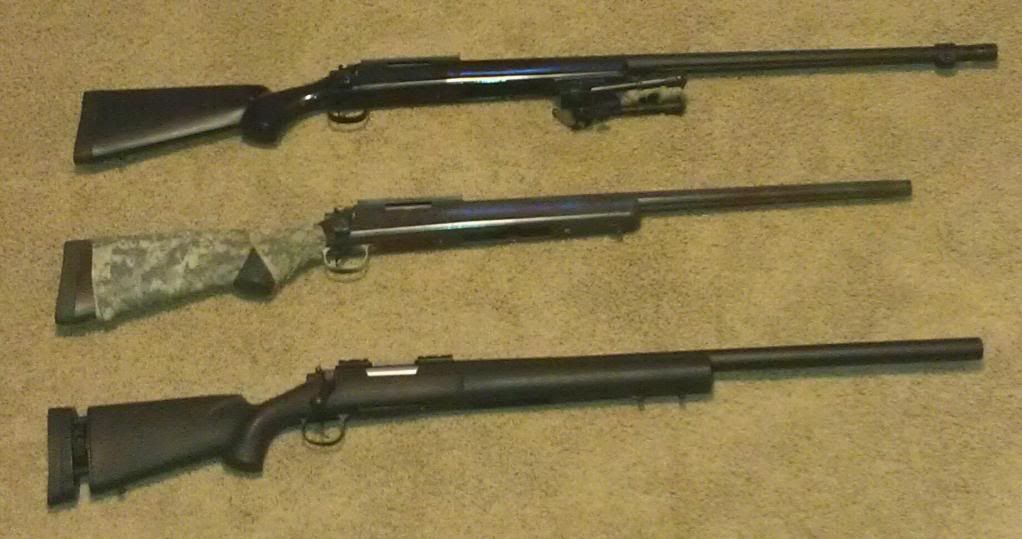 The top gun is a WELL mb07, also known as the first gun to get me into airsoft and airsoft sniping. It has been upgraded although not fully. I still plan on getting a PDI hopup unit and IR-hoping a Prometheus 6.03 barrel for it.
Already done upgrade wise are,
-PDI first and second sears
-PDI hard piston
-PDI spring guide
-PDI spring
-Daiki cylinder release

The middle gun is also a WELL mb07, this one I bought off of my friend after he broke the stock sears. He painted and wrapped it with the tape. I plan on upgrading it sometime in the future, repainting it or making a wood stock. I'll add iron sights and make it look aged and worn down. That way people won't take it seriously, at least not until I pick them off.

The last gun is my most current one, and my favorite by far. My Classic Army M24 civilian model. So far I haven't been able to field this amazing gun. Once I do, I plan to upgrade based on how it shoots. Most likely I'll replace the inner barrel with a prommy IR-hopped barrel. Then work on the bolt and its insides.

Well hope you like my collection.