Discussion Starter
·
#1
·
AIM: No Scope NX
Alright, I am getting ready to get into my baseball season, so I wont be playing much except at a friends house at our field there. I need to get rid of these things to buy upgrades for my gspec.
That being said, the only trades I will take:
- Laylax VSR Ztrigger, SP150, Steel Spring guide
- PDI v-trigger, full VC cylinder kit, vaccuum piston
Upgraded VSR cylinder
I have a vsr cylinder upgraded to over 400 fps, I beleive it is somewhere around 430. Works perfectly, no problems. The pin has been drilled so it is prime for upgrading.
Price: $45
Upgraded WE Tac Master
I received this in a trade about 5-6 months back. From the shots I have taken, this thing is a beast. The upgrades allow this to easily shoot 130+ feet accurately. I really wish I didnt have to sell this, but I need to buy vsr upgrades.
UPGRADES:
(Not sure the exact brand, after research the following are the most probable)
- PDI Precision Inner Barrel
- Guarder hi-flow valves (3 mags)
- Guarder 150% recoil + hammer spring
- Threaded Barrel
- Madbull Gemtech Blackside
PACKAGE:
- Gun
- 3 Mags
- Threaded Barrel
- Madbull Gemtech Blackside
PROBLEMS:
- Missing one screw on tenderizer, no effect at all
- Silencer a tad too heavy, makes you have to push the slide foward alot because the barrel becomes too heavy. A lighter silencer would fix completely.
Price New: $~370
Asking: $200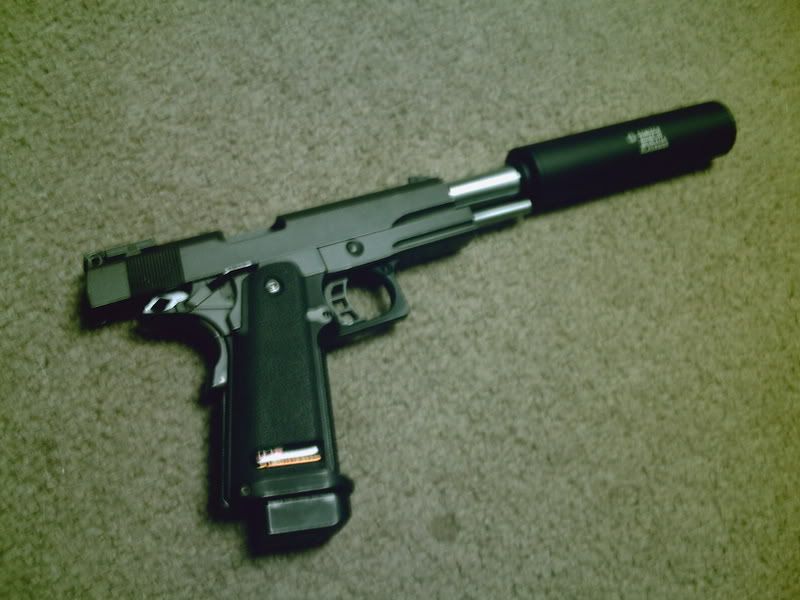 OE Tech Deployment Bag - $15
Uncle Mikes? Belt Holster - $10