Discussion Starter
·
#1
·
Hey, with winter coming up and all, I figured I'd share my info about winter camo! I personally think a ghillie suit looks wrong in the winter, because the snow smoothes everything out, and a shadowy leafy white thing looks out of place! They still work of course, but I just think it's not worth making one when you could make/buy an alternative for very cheap.
And now, presenting the German Snow Poncho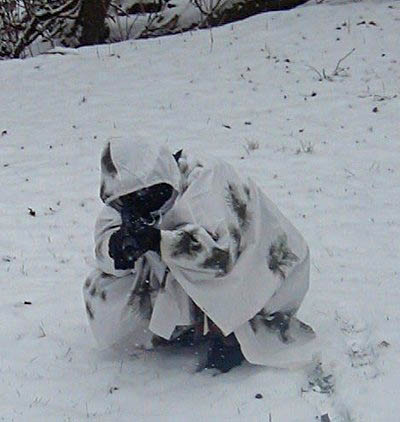 (This last picture is from a thread on MiA, here)
http://miairsoft.proboards.com/index.cgi?board=gear&action=display&thread=1003
I got one several years ago and only recently was i able to actually fit it, lol, and I've discovered how effective it really is! (Super effective)
A few pros over a ghillie:
Lightweight
Cheap/time efficient
I believe it blends in better anyway
In the winter, there are basically two colors. White and dark brown/green. The contrast between the dazzling white and anything else renders that other color almost black! In fact, a pure black suit can blend in almost as well as white in some areas.
And here is how to make one!
Ok, so I took a closer look at the poncho I own, and starts, not with a rhombus, but with two 3'x8' sheets sewn together to make a 6'x8' rectangle. Other than that the construction is the same.
(8' is an estimate, Just use whatever length necessarily to fall to just below the knees- Or anywhere else you prefer for that matter!)
*Permanent link*
http://imageshack.us/f/823/snowponcho.png/