Discussion Starter
·
#1
·
Hey everyone. Recently grabbed a Maruzen Aps-2 and now I'm looking to offload my Dboys Spr. Take a look and feel free to contact me with any more questions you may have. Not currently going to post prices, but feel free to make reasonable offers. I'm a reasonable guy, and the worst I can do is say no.
Upgraded Dboys Spr Mk12 Mod1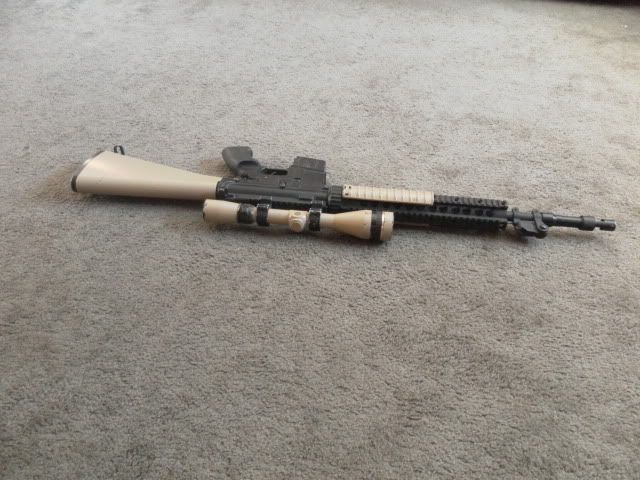 Here's what all I have in it so far:
Dboys Spr Mk12 Mod1 -
Madbull Black Python V2 Tightbore -
PDI 170% spring -
Systema Area1000 Piston head -
Systema Area 1000 Spring guide -
Systema Shims
Systema Bushings -
TM? Trigger assembly
Systema Hopup Chamber -
Deepfire Hopup bucking -
CA Hi-torque motor -
Intellect 9.6V 3600 MAh Battery. -
plus some more things I can't remember off the top of my head.
This is a great Rifle for someone who is looking to fine tune for great long range shooting. It already has some of the basics installed, but needs a bit of TLC and someone who knows their way around a gearbox to get shooting right. Namely, it needs some hopup work and a cleaning/replacement of the trigger contacts. I just never seem to get around to working on this gun and would rather see someone else get it shooting the way it deserves to shoot.
Note: Scope not included with the rifl