Discussion Starter
·
#1
·
I'm going through a kind of mid-airsoft-life crisis so It's time to hit the giant reset button on my collection. Before anyone asks:
Possible trades + cash:
-VFC SR16 URX (guaranteed trade)
-EBB Armor Chassis Gen2
-Phantom/Pantac CIRAS Maritime in CB
-Lightly used KSC M9
-WA Para Ordnance
-WA Kimber Warrior or other tactical WA Colt (no 1911A1's)
Classic Army M24
I've been building this thing for quite some time now. It's had my blood, sweat and tears put into it (don't let that keep you from buying it). I took the time to find all of the aftermarket parts in stock even when the only place they could be found was some hole in the wall retailer in the depths of Asia. This gun is one of a kind I promise you, the parts combination in this gun not only offer a high level of performance but also reliability. The only stock parts in this gun are the trigger mech, outer barrel and stock. The magazies fit snugly in the gun and need a small allen wrench to be taken out of the gun if you don't have long nails but honestly, who changes mags during combat with a sniper rifle? An easy solution is to make some magpulls. I re-tapped the threads for the trigger so now the trigger mech is attached with beefier flathead screws. The gun has very few rounds through the parts currently installed, in the mid to low hundreds. I clean and lube it often as any highly tuned rifle should be. If you want a top of the line precision rifle then look no further.
So here's what you're buying:
-Classic Army M24 Civilian (bull barrel) with the following installed:
-First Factory steel bolt handle
-PDI/Laylax two-way adjustable hopup
-PDI/Laylax PSS2 Teflon cylinder
-PDI/Laylax PSS2 3-element piston
-PDI/Laylax PSS2 Red piston head
-PDI/Laylax PSS2 SP150 spring
-PDI/Laylax PSS2 Cylinder head Pro (5 interchangeable nozzles)
-PDI/Laylax PSS2 7/9mm interchangeable spring guide
-KM TN 6.04mm tightbore (509mm)
-Classic Army M24 Tactical muzzle brake (for that unique look)
-Replica Leupold M3 3.5-10x40mm scope
-A little under 1,000 rounds of Airsoft NW .43g bb's
-1 Classic Army M24 magazine (no follower)
-2 Maruzen APS2 magazines (one fully functional. one is sanded down, the follower can be installed in the CA mag for two working mags)
-Extra PDI/Laylax PSS2 stainless steel cylinder (used)
-Extra PDI vacuum piston (lightly used, comes with extra #10 o-rings)
-Cut-down Laylax SPR300 spring (would work with a spacer and another spring segment, I can include one. I cut it down because with this spring the rifle was shooting above 600fps)
-Stock CA 7mm spring guide
-Stock CA hopup
-Stock CA cylinder head
-Stock CA 7mm spring
-Stock CA end cap
I think that's everything but I'll update it as I remember extra parts I have lying around. Considering this rifle has over $1,000 into it before shipping I'd like to get
$600
for it.
I don't have any pictures of it with the muzzle brake and teflon cylinder but this is how the gun looked over the summer, it now has a flatter more natural tan paint on it and no longer has the camo scheme pictured. Just flat tan.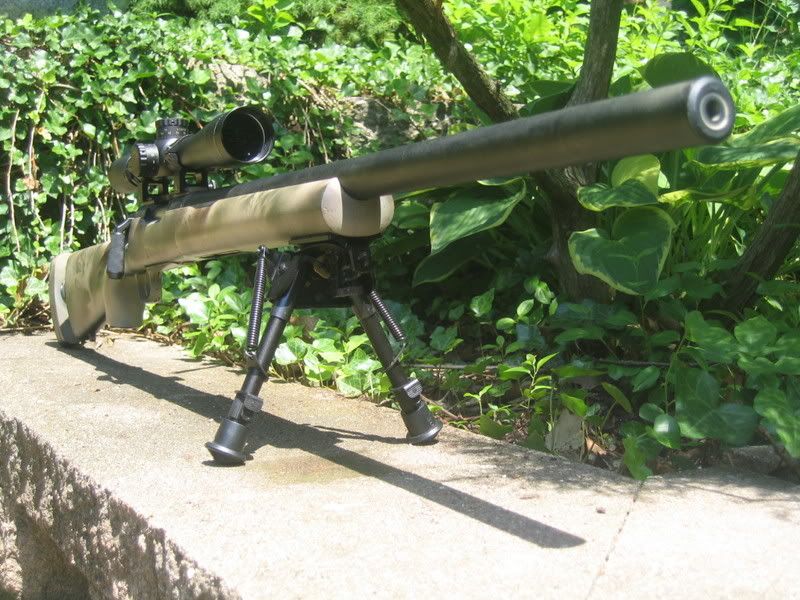 (Bipod not included)
This is a stock photo of the muzzle brake, I painted the entire barrel with what King calls "Vader Black" to match the finish of the muzzle brake with the rest of the barrel.
Found this little guy hiding in my photobucket, the tan on it now is flatter and more natural than this coat: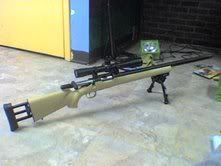 TM/G&P M25/Mk14 Crane
So I just built this thing last weekend and I already want something new.. I can't make up my mind.
The gun is an upgraded TM M14 base with a G&P Mk14 Crane kit and a Guarder FTK.
Here's what you get:
-Tokyo Marui M14
-Guarder FTK
-Madbull 6.03
-G&P M120 motor (will also include stock motor/housing)
-G&P Crane conversion kit (literally a week old, used once)
-Kit includes everything you see here: http://www.gp-web.com/en/productspop.php?pid=1895
-They gave me an OD handguard, not sand. I can paint it if you want.
-Military style low profile scope mount
-4 or 5 mags, one is the G&P midcap from the kit
-8.4v battery
-Original TM inner barrel
-Original TM stock (faux wood w/ chipping OD paint over it)
Included but not installed:
-G&P Scout type mount base
http://www.wgcshop.com/pcart/shopper.php?itm=GP-ACC-818_cat_Mount%20Base
-Guarder cutoff lever
-Guarder tappet plate
King and I put the gun together last weekend, I used it at OP: Diamondback and it claimed a ton of casualties. Judge can attest, he caught one in the hand and then one in the neck. It chrono'd 425, 426, 426. At the end of the day it started to shoot in auto, most likely the tappet which is why I have a new one here. You can just do the semi-only mod and throw it in the gun. I dremmeled two of the stock spacers so now you can use large type batteries instead of having to buy the specific DMR battery. This gun will need a 9.6v to run effectively, 8.4's just don't cut it anymore. Right now it has the Mk14 barrel installed but the original TM outer can be installed before shipping if you like.
I'd like
$500
$485
for the package. Shipping will be determined if pick up doesn't work out.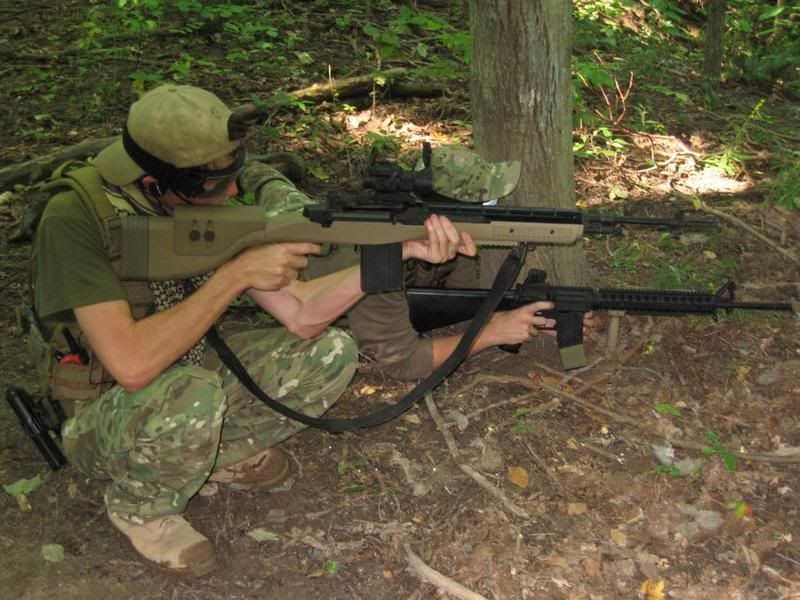 *Aimpoint isn't mine, not included.
The kit before it was installed: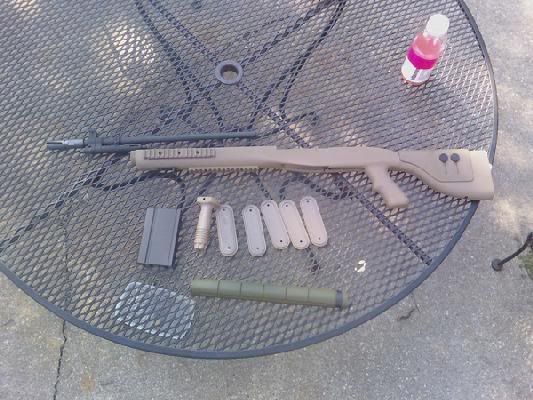 Something they don't tell you in the brochure..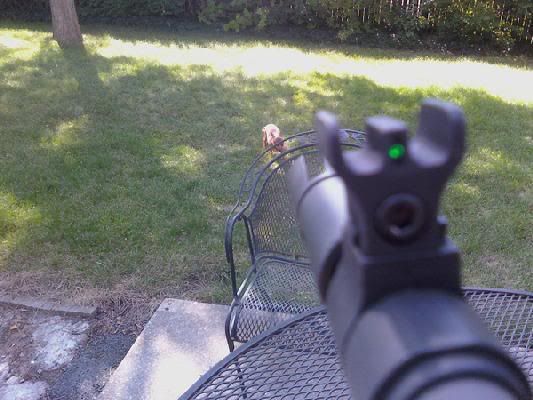 HSS Gear Desert Shield Plate Carrier in Coyote Brown
-Hard plastic SAPI plate replicas, front and back
-3 open-top 7.62 mag pouches w/ fasteners
-Includes the two MOLLE side panels (my scrawny ass is too thin to need/use them)
-Also included is the weird rifle butt saddle thing
$90
+ shipping
Stock photo:
Replica Magpul M93b
Only a couple months old, comes with a shotgun battery bag you can mount with zipties (never got around to buying a legit battery bag) I was planning on getting a Lipo to go in the buffer tube but I no longer own an AR.

$60 shipped
Low-res picture of mine: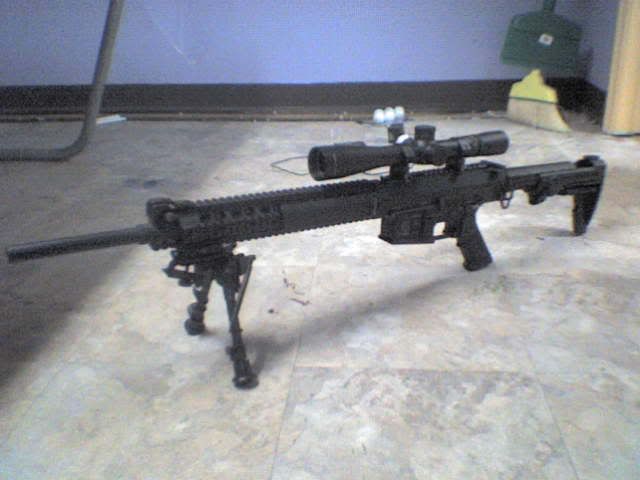 Stock Photo:
*I accept paypal only but if you really want an item, PM me and we can work something out. I'm at college right now but when payment is received I'll do my best to make it home the following weekend to ship the item out quickly.