Discussion Starter
·
#1
·
-Laylax PSS2 Stainless Steel Cylinder. Used but still in good condition, reason for selling is I just got a teflon cylinder.

$60

+ shipping

-PDI Vacuum piston for APS2. Lightly Used, in great condition. Will include 10 #10 rubber O-rings (one installed)

$40

+ shipping

-Stock Classic Army M24 bolt handle. You will need the three small ball bearings that sit on top of the springs. Selling because I bought a Laylax PSS2 bolt handle.

$20

+ shipping

-

Brand new propane adapter. Just opened it up to make sure it works.

$10

+ shipping

*Sold

-Sanyo 8.4v 4200mAh NiCad battery. Barely used, I don't have a gun that will run on it so it has to go.

$25

+ shipping.

-

New UTG RIS mounted Bipod, painted tan recently. I have a King Arms 6-9" so once again, no need for it.

$20

+ shipping

*Sold

-Used CA Harris-style spring retract bipod with some mileage. Missing a retention spring. I have some nuts on the connections that just need to be tightened every so often and it works just fine.

$15

+ shipping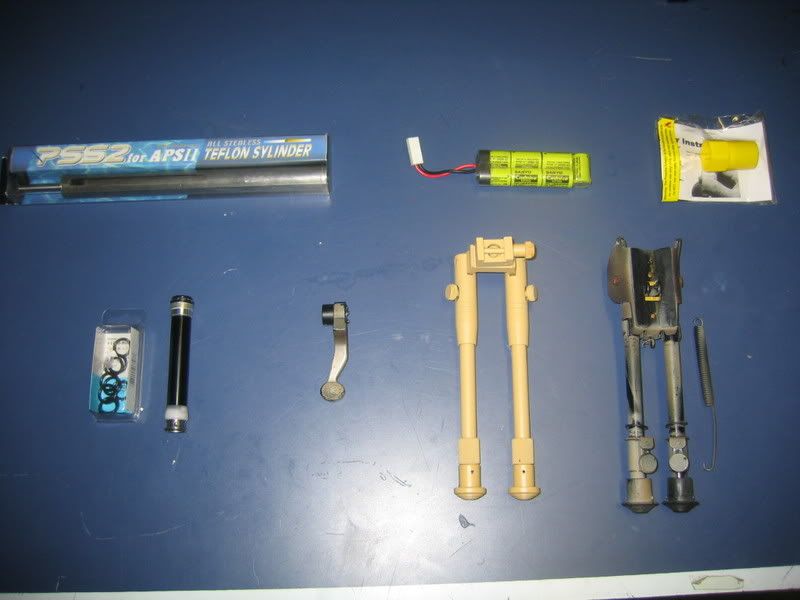 -Also testing the waters on my Western Arms SVI Championship. The package will include one non-working mag(gasses out after 8-10 shots) and a King Arms 40mm red dot. A soft pistol case will also be included. The price is
$180
+ shipping. I can pick you up a working WA mag for an extra $40.
Picture of it: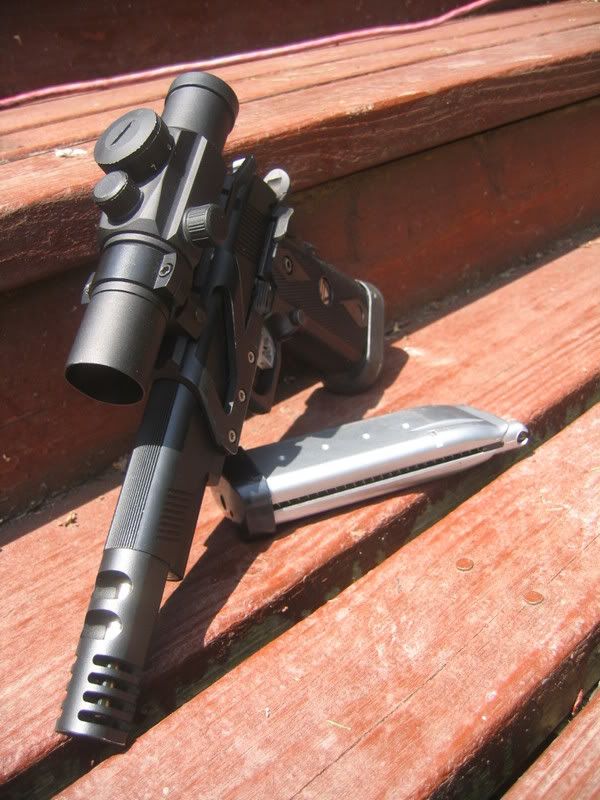 This is a used G&G SR25 with mock QD suppressor. It has an upgraded spring and a Systema piston head along with a Ver.III Madbull 509mm 6.03 tightbore barrel. The hopup most likely needs a new nubbin because it sometimes shoots low, not enough hop. The gun will come with a 9.6v battery. I'll have to get back with the exact information on the internals and the current on the battery. Shoots around 420fps with .2's and is semi-automatic only.
You also get two 50 round G&G standard magazines and one G&G 450 round hicap magazine. One of the standards is like-new, only filled it up about 8 times. The QD suppressor and bipod adapter are included.
I'd like to sell this soon so
$360
will have it
shipped
to your door. Paypal only, please. (+5% for fees)
Package includes:
-G&G GR25
-Madbull 6.03 barrel
-PDI 170 spring
-Systema piston head
-Guarder hopup bucking
-2x 50 round standard magazine
-1x 470 round hicap magazine
-9.6v battery
-G&G QD suppressor
-G&G bipod adapter
-3x G&G rail covers
-Original box
Pictures: (
M3 replica and King Arms bipod not included
)