Discussion Starter
·
#1
·
So this is my first sale here on Airsoft Sniper Forum and I don't have any feedback, but I'm not new to selling/shipping/etc. If you would like to look at some feedback I've gotten before check out "Sedole" on airsoftforum.com and "Sedole12" on ebay.com.
Some rules:
1. I would prefer cash, but I will consider partial trades + cash.
2. In a partial trade, you ship first unless you have very good feedback.
3. Prices do not include shipping unless otherwise stated.
4. I am willing to drive out at most 40 miles to meet up instead of shipping. I'm located at zip 92354.
5. All prices are OBO unless otherwise stated, but please don't lowball.
Also, if you have any questions, feel free to ask!
Feel free to offer anything, since I might be interested, but here are the main things I would like.
Partial trades list:
TM compatible Glock 17 stuff such as magazines or upgrade parts or a complete we glock 17 lower
TM compatible M14 stuff such as metal midcaps or a metal m14 flash hider
Aimpoint replicas with mounts
TM compatible M4 stuff such as magazines (mids and highs okay), externals, internals, etc.
OD or CB Tactical gear such as dump pouches, m4 mag pouches, m14 mag pouches, glock mag pouches, admin pouches, radio pouches, etc. and a vest like this
http://www.airsoftgi.com/product_info.php?cPath=28_171&products_id=1731
in OD.
Some sort of headset/PTT that is compatible with a motorolla talkabout
Onto the sale...
First up is my KWA kp45 Match. It works great and shoots great too. I've had it for about a year and it has seen around 2000-2500 rounds and has only been run on green gas. It was also cleaned after every outdoor game. It will come with three 100% functional mags, hop up adjustment tool, and the original box.
The only cons that I can think of are the wear on the slide from holstering and you have to apply a slight downward force when you rack the slide or the valve knocker thing (idk?) doesn't fully reset and the gun won't shoot. It's not a huge deal and you don't notice it after using the gun for a little bit. Also the only other thing is that the compensator was cracked from a short fall so I epoxied it then sanded and painted it a flat black.
I'm asking $180.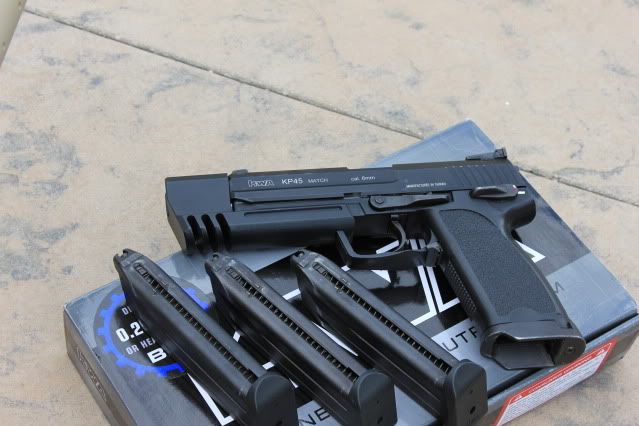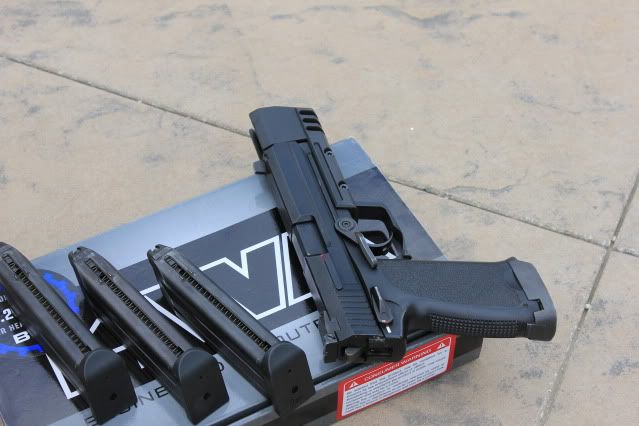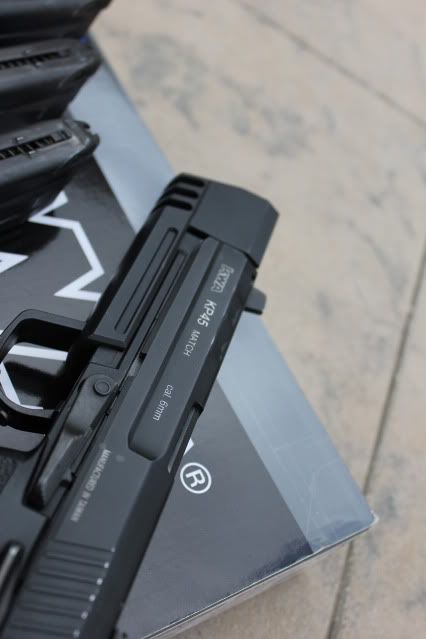 Next I have my upgraded UTG L96.
It's going to be really hard for me to part with this beauty, but I don't use her enough to justify keeping her and I use my g-spec more anyways.. so here is the parts list:
UTG mk96 shadow ops OD w/ 2 mags
PDI Plastonite Cylinder HD Set
PDI 220 Spring
PDI Duralim short fluted outer barrel
PDI AI muzzle break
PDI hop up chamber
PDI barrel spacers
PDI W-hold bucking (less than 500 rounds)
Laylax zero trigger (less than 1,500 rounds)
Madbull 6.03 455mm (less than 500 rounds)
PolarStar piston (less than 1,500 rounds)
UTG upgrade kit (less than 1,500 rounds)
NC Star bipod (compact)
Element stubby killer suppressor cw/ccw
Leapers 3-9x40 red/green illumination rubbor armored scope
I am the fourth owner of this gun and I believe woogie was the original owner. The third owner added a brand new laylax zero trigger and shot under ten rounds on it before selling the gun to me. I then added the scope, bipod, madbull barrel, PDI bucking, UTG upgrade kit, and PS piston. I also replaced all the o-rings in the PDI hop up unit about 500 rounds ago.
The reason why I'm using the PolarStar piston and UTG upgrade kit instead of the PDI stuff is cause I accidently broke the PDI piston head on a guarder m170. So, I got the PS piston thinking it would fit and it turned out not too. I then was very, very tight on money so I didn't want to spend a lot to get a new spring and spring guide to fit, so I bought the cheap UTG upgrade kit.. The original PDI spring guide and piston will be included and they can be used with either a new piston or if you just replace the piston head of the PDI piston.
So, last I knew, (the spring might have settled more, I'm not sure) it shoots a VERY consistent 550fps with a .20g bb and you can make some VERY long shots with this. In game, the longest shot I've made was about 240 feet, but outside of a game in ideal conditions I can get 270 feet fairly consistently.
I also painted the gun myself with rattle cans and have done a lot of DIY mods such as foam filling the stock, teflon tape around the cylinder head threads, flossed bucking, etc.
I'm asking $460 with everything and $410 with everything minus the scope and bipod.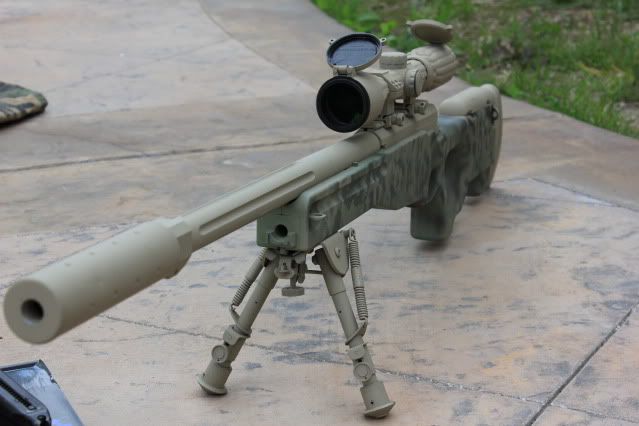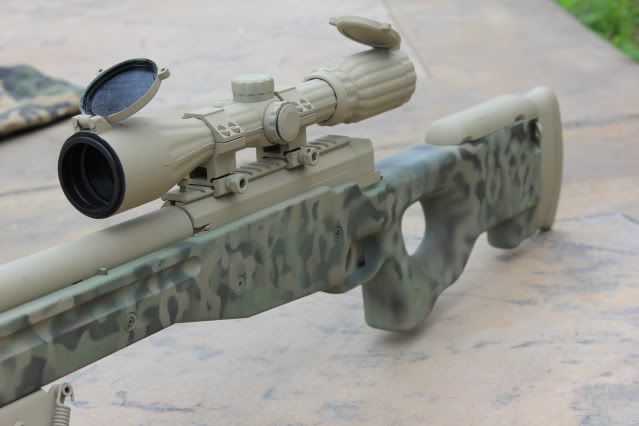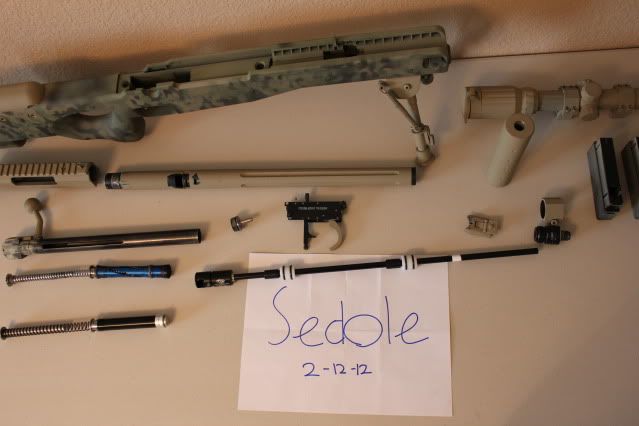 Now, if you buy both my pistol and rifle, I'll throw in my handmade ghillie suit for free. The package price is $610 or $560 minus scope and bipod.
The qhillie suit is made on a size small flight suit and will only fit people under 5'11". It probably won't fit a heavier person either.