Discussion Starter
·
#1
·
Just to make this clear.. this is NOT my rifle... Its by buddies. I told him I would help him sell it.
http://miairsoft.proboards.com/index.cgi?board=commerce&action=display&thread=43370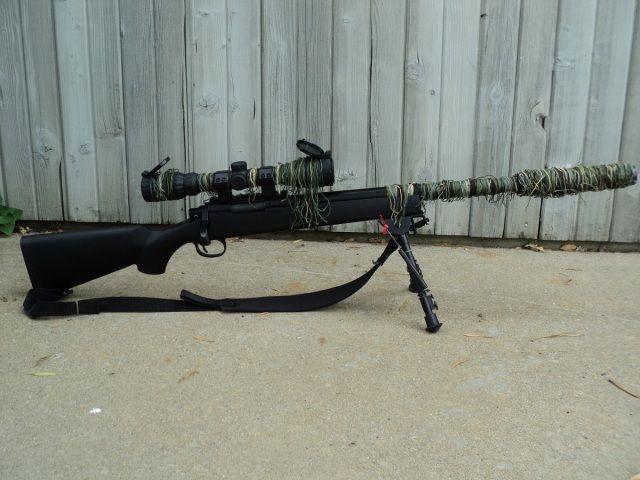 I am trying to sell a "budget" BAR-10 project to fund some car repairs. The rifle is shooting right around 550FPS w/ .2g bbs (in line with MIA bolt-action standards) and can easily hit a man sized target at 250 feet.
The majority of internal upgrades are part of Airsoft GI's budget VSR-10 upgrade line. I know these parts cannot compare to PDI or Laylax but they were a good starting point for this project and have held up very well over the course of ~1000 shots. The sears and piston show very little wear at this point and should hold up for a while. However, at this velocity a zero trigger would be a smart investment.
I did not skimp on accuracy upgrades in regards to the inner barrel and hopup bucking. The combination of an EDGI 6.01 bull inner barrel and 9ball hopup bucking make this a consistently accurateshooter.For maximum performance from this rifleyou MUST perform regular maintenance (Cleaning inner barrel, hopup bucking w/ soapy water, greasing piston, etc.).
Some other things to note about the rifle are the personal modifications that have been made. The stock has been foamed for sound dampening and lightly weighted for balance. Asyou can see in the pictures most of the outer barrel and the scope have been wrapped with jute fiber. This was just to give the rifle a unique look but can be easilyremoved.Also thebarrel extension ismadefrom PVCand foam filled to help quiet the report (very hard to hear beyond 20 yards).
PLEASE NOTE - this rifleis missing the hopup adjustment lever that extends next to the outer barrel. The body screws must be removed and the barrel separated from the stock to expose the hop-up chamber for adjustment. Step by step instructions are located at the end of the post.
Below is a list of what you get with this package:
- EDGI 6.01 bull inner barrel - 9ball hopup bucking - GI reinforced sears - GI metal spring guide - GI reinforced piston - GI m170 spring - GI teflon cylinder - GI cylinder head - Paddle bolt handle - Foamed PVC barrel extention - Jute wrap on outer barrel and scope - Leapers 3-9x40 Rubber Armored Scope - Harris bipod - Standard 2 point sling - ~1000 Bioval .3g bbs (GREAT bb's) - 2 Magazines - Rifle case (rifle fits with everything attached)
$170 shipped or $150 picked up in the St Johns area
Instructions for hop-up adjustment
Remove both body screws with allen wrench:
Separate the barrel and receiver from the stock:
Then simply use your finger to slide the hop-up slider up or down