Discussion Starter
·
#1
·
So I have thought about selling my rifle due to low cash flow. I just don't want to get rid of it and lose out.
NEEDS SOLD ASAP!
So without further adieu, It began its life as a utg mk-96. I installed a PDI hop up(and shimmed it), blue madbul rubber, and a 6.01, 500mm madbull tight bore. It has a utg upgrade kit with a metal spring guide, heavy spring (shooting 418 fps with .4's) , and metal piston. I decided to try out the Airsoft GI custom heat treated piston sears and they are holding up just fine.
On top of after market parts, I did a plethora of DIY upgrades with Teflon tape, DIY barrel spacers, and foam. To decrease muzzle report, I installed a custom suppressor made from pvc pipe and foam (if this is a problem to say or have on this forum I am sorry and will take it down if needed). The inside of the rifle is also stuffed with foam to give it a better feel and make it less hollow. Last chrono test it was shooting 400-415 fps with a .4. Last time I shot it, I Laser range found a target at 200 ft. It was hitting a 1.5 X 1.5 ft target 50% of the time. So I will assume a man size target is doable at that range. Same target at 100ft was 10 for 10.
UTG MK-96 $150
UTG upgrade kit $50
PDI hop up chamber(shimmed) $70
madbull rubber $10
madbull tight bore $30
ASGI Heat treated Sear set $50
Custom suppressor $15
DIY mods - foam, Teflon - $10ish
Cool paint job - priceless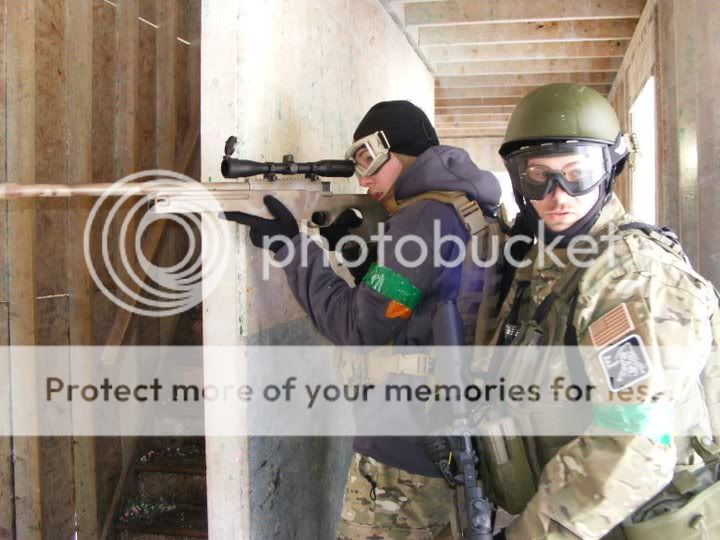 I dropped it down to $250. I could throw in madbul .4 bb's and/or the scope on top for a little more as well. If your interested and want to talk a different price then PM me. Worst I can do is say NO YOU BIG JERK.
Thanks for looking